Santa Fe Christian students thank Sharp caregivers
Students in teacher Cynthia Nixon's fifth-grade class at Santa Fe Christian Schools in Solana Beach recently sent pictures and notes of appreciation to Sharp Grossmont Hospital doctors and nurses.
The assignment is part of an effort at Santa Fe Christian to support the community during the ongoing COVID-19 coronavirus crisis. The school has partnered with the American Red Cross to host the second of two blood drives on June 4 from 9 a.m. to 3 p.m. in the campus gym for families, teachers, faculty and the public.
School representatives said Nixon's students embraced the project enthusiastically.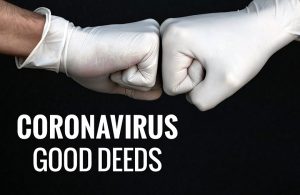 "I was blown away by the students' response," Nixon said in a news release announcing the project. "We'd been learning what it means to think about others and I thought writing thank you notes to medical workers would help put this idea into practice. I wanted them to realize that there are people out there still working, and in some cases, sacrificing their personal safety in order to keep others safe and healthy."
The hospital is including the submissions in a video dedicated to its medical personnel. The hospital also displayed the photos in its meditation room.
"It's impossible not to smile when you see their work and read their sentiments," said Bruce Hartman, director of marketing and communications at Sharp Grossmont. "There was much effort put into each picture, and their words show so much appreciation. I know it is having a positive impact on everyone here at the hospital, from front-line caregivers to the staff who support them."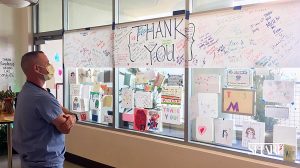 Sharp officials noted the challenging environment that Nixon and teachers everywhere face in guiding students during campus closures.
"With schools closed and uncertainty everywhere, Nixon must walk a fine line between maintaining her students' education and easing their stress and anxiety," Sharp's Health News Team noted in a blog post. "One way she's doing that, is by asking her students to create thoughtful notes and art for caregivers at Sharp Grossmont Hospital."
As Nixon's students built on the assignment — mailing notes other front-line medical workers and creating art and bracelets as a fundraiser for people in need — she turned the project into a formal effort called Operation Appreciation.
She is also sharing the idea with fellow teachers at Santa Fe Christian.
More information online: www.sfcs.net.
encinitas current, cardiff current