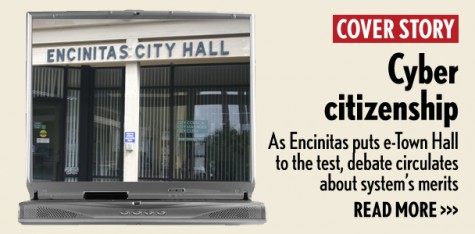 Gisela Lagos

December 2, 2014

Filed under Cardiff by the Sea, Encinitas, Leucadia, LOCAL WIDE WEB, Media, Olivenhain, Politics, Top Stories
E-Town Hall/Peak Democracy is the newest in a line of efforts Encinitas has made to increase public engagement, but not everyone is convinced that paying for the pilot program was money well spent. In community blogs, comments and group conversations, residents have been talking about the positives...
Camille Lozano

October 17, 2014

Filed under Cardiff by the Sea, Encinitas, Encinitas City Election, Leucadia, Media, Olivenhain, Politics
The not-for-profit news model has recently emerged as an increasingly viable form for sustaining media organizations in a time when the future of traditional media is questioned and for-profit institutions report weakened readership. But as nonprofit news organizations rise in number, concerns have...