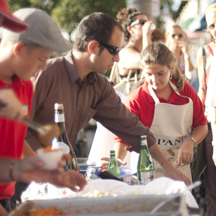 August 13, 2015

Filed under CURRENT EVENTS, Encinitas
ENCINITAS — The Encinitas 101 MainStreet Association is almost out of tickets for its 27th Annual Taste of MainStreet, set for 5:30-8:30 p.m. Aug. 18 along Coast Highway 101 in downtown Encinitas. Participants will be able to sample food, craft beer, wine and non-alcoholic beverages at more than 60...
North Coast Current

February 13, 2015

Filed under Business, Encinitas, LATEST NEWS
The Encinitas 101 MainStreet Association has named Thora Guthrie as its new executive director, the organization announced Feb. 12. Guthrie, who succeeds longtime director Dody Crawford, comes to the business group with previous experience as chief executive of the Escondido Downtown Business Associa...