North Coast Current

January 6, 2016

Filed under BUSINESS NOTES, Escondido, Media, North County, Region, San Diego County, Valley Center
The second incarnation of Escondido's Times-Advocate newspaper and its Valley Center counterpart have been sold to the Valley Roadrunner, according to a Jan. 5 news release from the new owner. The owner is relatively new to the Roadrunner, as well, according to the announcement. Roadrunner Publications...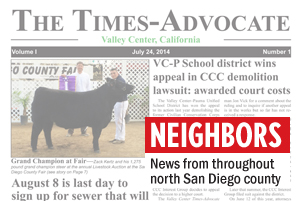 North Coast Current

August 7, 2014

Filed under Escondido, Media, NEIGHBORS, Region, Valley Center
Residents of inland North County might recognize the name of a new Valley Center newspaper — The Times-Advocate. The original century-old daily Times Advocate of Escondido was half of the merger that created the North County Times in 1995. The North County Times was launched when the Times Advocate...