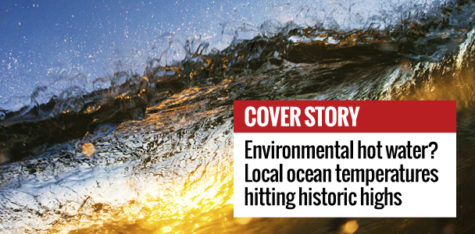 Cameron Niven

August 21, 2018

Filed under Encinitas, San Diego County, Solana Beach, Top Stories
On Aug. 7, Scripps Institution of Oceanography measured the sea-surface temperature of local waters at 79 degrees, which was the highest temperature taken in the 102 years since the institute started taking measurements. Some beaches, such as Solana Beach, recorded water temperatures up to 81 degrees, according to reports. Why are these ocean water temperatures so high? How long are they going to last? How often are they going to arrive? How could they affect future storms and climate?
North Coast Current

January 8, 2016

Filed under Carlsbad, Del Mar, Encinitas, Fallbrook, LATEST NEWS, North County, Oceanside, Poway, Region, San Diego County, San Marcos, Solana Beach, Vista
Encinitas and its coastal and inland neighbors experienced significant rainfall thanks to a series of El Niño related storms this week, according to National Weather Service figures. The storms during the first week of 2016 caused considerable flooding through San Diego County and led to severe bl...