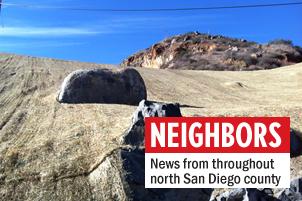 Alex Groves

October 11, 2013

Filed under Elfin Forest, Escondido, Harmony Grove, NEIGHBORS, San Marcos
Residents of the communities of Elfin Forrest and Harmony Grove have long been at odds with potential development in the form of housing, schools and light industry, and that's likely because there aren't many places in North County that resemble the rural area that comprises them both. The to...
Heather Randall

July 27, 2013

Filed under Arts, Community News, CURRENT EVENTS, Elfin Forest, North County, Olivenhain
NORTH COUNTY — Amateur photographers are encouraged to grab their cameras and come out to the Elfin Forest Recreational Reserve for the eighth annual Reserve Escondido Creek Conservancy photo contest. There are several categories to enter photos in: Scenic View, Water Scenery, Plants and Animals, Black...