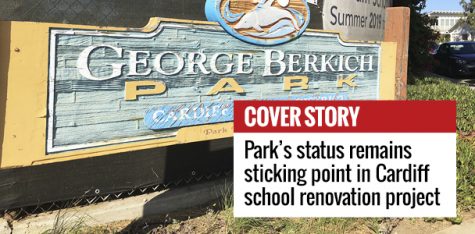 Bella Ross

September 18, 2019
The implementation of Measure GG, a bond program approved in 2016 that allocated $22 million to remodel two Cardiff schools, has sparked a trail of discussions over whether George Berkich Park is legally allowed to undergo any changes.
North Coast Current

November 9, 2016
Encinitas Councilwoman Catherine Blakespear retains her sound lead for the city's mayoral seat as housing Measure T fails, according to the San Diego County Registrar of Voters, with 100 percent of precincts reporting, as of 10:30 a.m. Nov. 9. Incumbent Dave Roberts holds a narrow lead over current Encinitas Mayor Kristin Gaspar in the San Diego County Board of Supervisors District 3 race, county returns show. Local school improvement bonds are passing widely.
North Coast Current

November 9, 2016
A proposed update to Encinitas' city housing plan was losing in preliminary results Tuesday night, whole local school bond measures were on track to win, according to early voting results as of 11:50 p.m. Countywide Measure B, in support of building the massive Lilac Hills development in Valley Center, was also headed for defeat, according to early county results.