North Coast Current

September 3, 2015

Filed under Cardiff by the Sea, Elections, Encinitas, LATEST NEWS, Leucadia, North County, Olivenhain, Politics
Kristin Gaspar, Encinitas' first elected mayor, has announced she will run for a seat on the San Diego County Board of Supervisors in 2016. Gaspar made the announcement Aug. 31. She will run for the seat serving the 3rd District, currently filled by former Solana Beach councilman Dave Roberts. In J...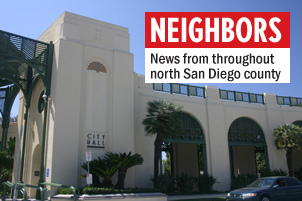 Alex Groves

June 18, 2014

Filed under Encinitas, Escondido, NEIGHBORS, Region
The city of Escondido is in the initial phases of creating a $5 million pipeline to transport recycled wastewater from a treatment facility on its west side to agricultural entities on its east and northeast sides. It's a project that's one of many slated for completion over the coming decades,...