Golden plates: Car buffs laud plan to bring back iconic colors
Classic car owners generally have a few things in common. Aside from a love of an era of cars when baby boomers were still babies, enthusiasts typically have money to spend and time to restore their classic models to a "T."
But there's one thing they don't have in common. Not all classic car owners can buy the original license plates. The look, for some, isn't complete without a nod to the black on yellow, yellow on black or yellow on blue plates.
Not anymore if Gov. Jerry Brown signs AB 1658, a piece of legislation that would allow classic car enthusiasts to pre-order replica plates with the look and colors of the 1950s, '60s and '70s. (Update: Brown signed AB 1658 on Sept. 28.)
Assemblyman Mike Gatto, D-Los Angeles, introduced the bill to the State Assembly, which unanimously passed it in May. Gatto said he wanted to do something "nice" for California car owners by bringing forth the legislation.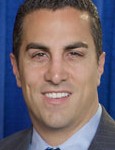 "It just seemed like a good idea," Gatto said. "We have a very confusing set of regulations. There's things like red light cameras and all sorts of things that are a pain in the butt for people who drive. This is just something nice that I think the state can do."
Gatto said that if Brown signs AB 1658 into law, car owners can begin pre-ordering the classic-style plates in January 2013 for a $50 fee per plate plus a $40 registration renewal fee. If 7,500 plates are ordered by Jan. 1, 2014, the DMV will begin printing and disseminating them.
Gatto said meeting the quota of 7,500 pre-ordered plates shouldn't be a problem, though. Local San Diego County car enthusiasts agree.
"Even a car guy that doesn't have a classic car will get it," said Dino Iacovino, owner of a 1955 Chevrolet Bel Air four-door station wagon.
Iacovino flaunted his Chevy Bel Air at Classic Car Nights along Pacific Coast Highway in Encinitas on Sept. 13. He had his car parked, windows rolled down, trunk up and a binder with pictures of the model out for passersby to stop and peruse through.
Another North County resident posted up in a beach chair next to his baby blue beauty while a surf rock band played classic tunes at Classic Car Nights. Darryl Gassaway sat and smoked a wooden tobacco pipe while talking about his love for classic cars and for his late wife, with whom he planned to travel to world. He said that because his wife passed away, he decided to refocus his money toward restoring his car.
Gassaway reflected on when his love for cars began.
"I came out of the womb kicking and screaming, holding a gear shift," Gassaway said.
So far, Gassaway has spent more than $30,000 restoring his 1956 Chrysler DeSoto – and it's still not done. He said that if the legislation passes, he would buy a retro-style plate.
"If the state of California were to make it available for a one-time fee of $50-$100 to buy that plate and put it on my car, I'd be more than willing to pay it," Gassaway said.
Some classic car owners worry that the retro-looking license plates may lower the value of the cars already fitted with the original plates. However, Doug Jones, Classic Car Nights coordinator and director of the Encinitas Community Emergency Response Team, says the opposite.
"When you have an original plate – like I have an original yellow with black lettering, never been restored, still original – and it says on it 'Y56,' it adds $1,500 value to the vehicle," Jones said.
The "Y56" stands for "year 56," the year the license plate was issued, which is what will likely set the plates apart, according to Jones.
Jones said the DMV will be very articulate about distinguishing what's an original plate and what's not, and says car buffs will easily be able to tell the difference.
Gatto says another difference between the original and the retro-style plates is the reflective coating seen on modern plates, which makes it easier for California Highway Patrol officers to scan cars. The new wave of retro-style plates will have the coating. Original plates do not, according to Gatto.
Donna P. Crilly is a North County freelance writer