Some people lament the merging of the holidays into one long shopping spree. It's hard to imagine a time when there was no such thing as "Black Friday." But once upon a time …
Back before Cardiff was a town and was, instead, a collection of houses on a hill, the holidays were exciting but modest affairs. This was the 1920s, and according to longtime resident Jay Williams, times were hard. His family moved to the area during the Depression, and when they couldn't afford a Christmas tree, they took a branch from a cypress tree in the front yard and decorated it.
At that time, Cardiff was considered the low-rent area. When Williams' mother found that they could buy a house in Cardiff for the same amount they were paying for rent in Leucadia, they went for it and bought a 700-square-foot home on Montgomery Avenue.
Even though times were tough, the kids believed in Santa and he always came through with a book or two on Christmas. Williams said it was the only day they were given candy. His favorite was the "BB Bat," a kind of chocolate-covered Sugar Daddy.
"If you licked it right, you could make it last almost all day," he said.
One Christmas, Williams' father delighted his two boys with an old bicycle he bought for $7, a huge sum at that time. His father fixed up the bike, painted it red and gave it to the boys to share on Christmas Day. It was a 28-inch model and too big for them, but they didn't care. They stood up on the pedals and spent the days to come racing up and down their unpaved street.
The rest of the time, the children played made-up street games or borrowed toys from the "toy lending library" that Williams believed was sponsored by the county. Kids could walk over and check out a croquet set, bat and ball or wooden pull toy. They even had golf clubs that they used to play on a little golf course that was set up by burying coffee cans at Glen Park.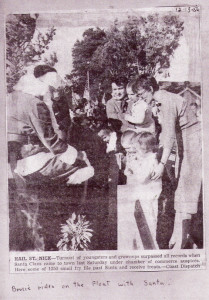 Jan Grice remembers Christmas in Encinitas in the 1950s and '60s. She said the big difference she remembers between then and now was the Christmas parade. It used to be held during the daytime instead of at night. She said the Chamber of Commerce sponsored it to draw potential customers with their families to shop in the area when the stores were open.
Now it's held at night. Grice said she doesn't think it's quite as much fun for the children because it's cold in the evening and the kids get tired.
As for shopping, at that time, there weren't any malls. Grice said she shopped downtown at Regina's for her clothes. They would travel up to Oceanside to get the kids their "snowsuits" for winter.
Pam Walker remembers growing up in the '60s as a time when people dressed up. Women wore dresses and men wore jackets, white shirts and ties. The holidays didn't center around football. People socialized; they sat around and talked while the kids played.
Fast forward to the 1970s, when Nancy Gottfredson moved to Solana Beach. She said women were just beginning to switch dresses for pantsuits worn with fancy blouses. She used to shop at Walker Scott department store, which was in the same space that, until this year, was occupied by Ross in Loma Santa Fe Plaza (originally known as Plaza of the Four Flags).
"They laid things out on tables at the store because they didn't have cases," she said.
She shopped the Sears catalog for her boy's jeans because they guaranteed their children's clothes unless the little patrons grew out of them.
When her boys got new shoes, "it didn't take long to put holes in the toes," she said.
That was because the children were always playing outside, at their happiest when getting dirty.
Everyone interviewed for this story seemed to agree on that. Although each also admitted that kids don't go outside as much today and electronics appear to be on the top of many kids' lists.
Still, they each relished the memories of childhood in the 20th century, when their playground was anywhere "outside," holidays were dress-up occasions and little presents meant so much.
Helen Hawes is a North County freelancer writer