Parade of characters: Residents, pro runners race for the beloved 'Cardiff Kook'
Mere minutes after world class runner Luis Orta blasted to victory in the men's 10K on Feb. 1, the glamorous Dragonfly Team, wearing matching white sweatshirts and empowered by sporting the bejeweled sunglasses they made the night before, took off on their first 5K run. At least they think so. Some of them had to look it up first.
This could only be the fourth annual Cardiff Kook Run in Encinitas, where many of the estimated 2,500 to 3,000 participants make sport of dressing in costume to race along the coast before partying on Superbowl Sunday. The 5K and 10K races draw serious runners as well as beginners, including families, just about anyone who likes running walking or strolling along the coast.
The "Cardiff Kook" is the nickname for a controversial but beloved statue of a novice surfer in Encinitas. Its form has been roundly criticized by seasoned surfers. As a result, anonymous people in the community have been known to dress him in costume. The wear and tear from so much love is taking its toll on the area surrounding the "Kook," so funds from the Kook Run go toward its upkeep.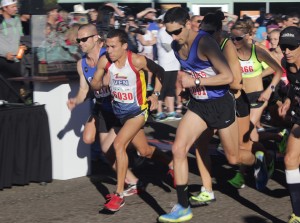 Veteran runner Henry Chan came dressed as Aladdin, but his signature style is revealed by his feet. He runs barefoot. He said he loves this race.
"People cheer for you when you are running, but they cheer louder when you're in costume," he said.
Elementary school friends Sofia Lozano and Bryn Pallia stowed tiny stuffed animals in their pockets for luck. Mom Julie Pallia said her daughter has been running since kindergarten.
"They have a Roadrunner program at their school where they run laps," she said. "They win prizes at different milestones," she added.
Kook Run cofounder Steve Lebherz awarded the medal for The Team Spirit to Team Hoyt of San Diego. This local chapter honors founders Dick and Rick Hoyt, a father-son duo. Rick, who has cerebral palsy, wanted to run a race to benefit a lacrosse player who had been paralyzed in an accident. His father, Dick, ran the race with him, pushing his wheelchair across the finish line. Since then, they have completed more than 1,000 races.
Jim Pathman of Team Hoyt San Diego accepted the award. He was ready to roll in the race with twin 16-year-old sons, Shane and Riley. Pathman expressed excitement to carry on the tradition of the Hoyts by taking his sons everywhere he goes.
Meanwhile, race winner Luis Orta was thrilled to run in the California sunshine Sunday. The Venezuelan makes his home in Kentucky, but he couldn't wait to leave the cold and start training in Encinitas.
"The people in California are super nice, super cool," he said seconds after sprinting to victory.
This race is part of his training. His next conquest is a marathon in the Netherlands in the spring.
The bejeweled Dragonfly Team, on the other hand, said they came on the spur of the moment to be part of the North County fun. They'd be happy if they just got a glimpse of the finish sign.
Helen Hawes is a North County freelance writer