Saving the store: Crowdfunding campaign, cash mob aim to keep Ducky Waddle's afloat
When you walk into Ducky Waddle's Emporium, you enter another era. The funky Leucadia store beckons feelings of nostalgia, even for first-time visitors. The walls are covered in an assortment of prints ranging from Shepard Fairey's work to vintage Harper's Magazine covers and concert posters. The distinctive scent of used books is reminiscent of a simpler time, before technology changed everything.
Community members have created a crowdfunding campaign on Indiegogo.com to save Ducky Waddle's Emporium, a used bookstore and all-around cultural center, from closing. While it's only raised about $6,000 of its $20,000 goal, the project has been successful in generating additional support and awareness of the unique business.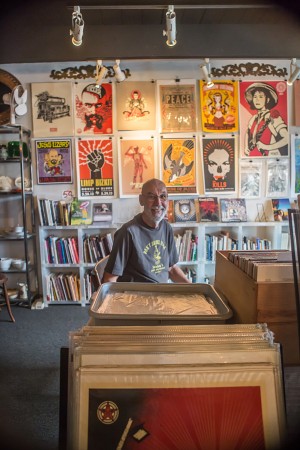 Jerry Waddle, the owner, has been around for a long time. He started out as an art dealer and opened his first gallery in 1963. He's owned stores in San Diego, Solana Beach and Los Angeles. He's been in his Leucadia location since 1998.
Over time, he expanded his business to include books and provide a venue for local musicians and writers. It's hard to tell whether his customers love him or his store more.
"I like Jerry's perspective on things," said Scott Saw, a local artist and photographer. "In an age where the world is gravitating towards homogeneity and chain stores, he's a breath of fresh air."
Saw had his first art show at Ducky Waddle's in the '90s. He said the space has been a staple in the local art community for years now.
The economic recession hit small businesses like Waddle's hard. Although he managed to stay open in the years that followed, he never recovered. He had to let his employees go and hasn't been able to afford updates to his website in years. There were days when nobody would come into the store or there might be only one sale, he said.
He said he needs money for new merchandise, and he's also behind on his bills. Business is finally starting to improve, Waddle said, but he worries it's too little too late.
Independent bookstores are beginning to benefit from a resurgence in print sales, as reported by Publishers Weekly in May. In September, Slate reported that "indies" are regaining popularity because they don't need to compete with sites such as Amazon when they can focus instead on well-curated collections. And a number of independent bookstores across the country have been successfully rescued by other crowdfunding campaigns, as reported by the New York Times in August 2013.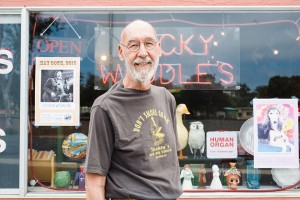 "It doesn't get more Encinitas than Ducky Waddle's," said Tiffany Fox, secretary and founding member of Engage Encinitas.
Engage Encinitas will host a cash mob at Ducky Waddle's on June 13 at 4 p.m. Fox said she hopes this will give people another option to support the store, which she sees not only as a cultural asset to the community but also as an economic one. She said that Engage Encinitas has an interest in helping Ducky Waddle's because it sells used books, which benefits the environment, and also supports the local economy as a tourist destination.
The last day to donate to the Indiegogo campaign is June 8. Visit www.indiegogo.com/projects/help-save-ducky-waddles to learn more. You can also learn more about Engage Encinitas and view the event page for the upcoming the cash mob by visiting www.facebook.com/engageencinitas.
Amanda Rhoades is a San Diego freelance writer