'The best people in the area': Ducky Waddle's owner, customers reflect on 20 years of business as Leucadia shop wraps up
Ducky Waddle's Emporium, a beloved Encinitas institution, will close its doors at the end of September after more than 20 years in business.
Owner Jerry Waddle, 76, announced the closure in a Facebook post on Aug. 19, which read that "the economics of running a small independent store have proved to be insufficient" for the future.
Ducky Waddle's was hit hard by the recession in the late 2000s, and although business slowly returned, the store never recovered — forcing Waddle to sell items from his personal collections to keep the doors open.
"People stopped spending money, my cash flow dried up," Waddle said. "In the first three years of the recession, I lost almost 80 percent of my business."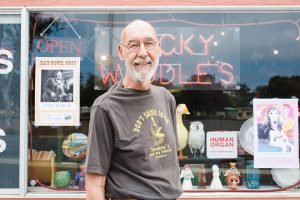 Since it first opened in 1996, Ducky Waddle's has served as a meeting place for the eclectic art community in Encinitas. In its heyday, Waddle hosted various art shows, poetry readings and live concerts at the store.
Street artist Shepard Fairey, famous for his Obama "Hope" poster, had some of his first solo art shows at Ducky Waddle's. Pulitzer Prize-winning poet Rae Armantrout gave a poetry reading there, as did award-winning poet Jerome Rothenberg.
And many local artists also got their start at Ducky Waddle's. Scott Saw, of Encinitas, credited Waddle for helping him organize one of his first art shows in 2003.
Saw said Waddle's was a comfortable place to experience unique art and performances, and he said he's sad to see the establishment close down.
"I'll feel the void. I'll miss it," Saw said.
In May of 2015, Waddle started an Indiegogo campaign to save the store. Soon after, civic group Engage Encinitas hosted a cash mob event to help raise awareness and spur business for Ducky Waddle's.
Tiffany Fox, an Engage Encinitas founder who organized the cash mob, said that they offered Waddle their support because he embodies the offbeat eclecticism of Encinitas. Although the cash mob's turnout was "OK," she said she hopes people continue to vote with their dollars in support of small businesses.
"We can't have community character if we don't support that community character," Fox said. "Whatever we can do to support Jerry, and people like Jerry, is how we're going to keep Encinitas the amazing place it is to live."
And while the nearly $8,000 raised during the Indiegogo campaign helped to keep the store open through this year, Waddle started falling behind on his store and personal bills.
"If I can't pay my rent, I can't stay open," Waddle said.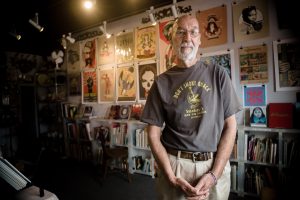 Waddle, a Southern Californian native, has been curating and dealing in arts and antiques for more than 55 years. In the 1980s, he moved his first San Diego shop to Los Angeles. When that store was destroyed in the 1994 Northridge earthquake, he moved back to San Diego and opened Ducky Waddle's in Encinitas in 1996 — eventually moving the store to its current location in Leucadia two years later.
And since its first embodiment, Ducky Waddle's has offered a wide assortment of art, antiques and collectibles — all of which Waddle buys and curates himself. The store's shelves and walls are occupied by everything from rare books to one-of-a-kind pieces of art and jewelry.
When word of the store's closing first spread, fans of Ducky Waddle's were saddened by the news.
Sunny Rey, a local poet who had several readings at Ducky Waddle's, said the metal wireframe duck that sits atop the store is a "landmark." Although she's sad to see it go, she hopes that the store's closing will be a lesson in supporting small businesses.
"If we really care about a place as a community, we need to make sure that we're a part of the maintenance for it," Rey said.
As for the future, Waddle said that, while he'd love to continue his work in art and antiques, he'll need to get a job to pay the bills — which he said, at his age, "doesn't make sense."
And while people loved Ducky Waddle's for different reasons, Waddle said that he enjoyed going into work every day, due, at least in part, to the customers, visitors and artists who gravitated to his store.
"The way I've benefitted (from Ducky Waddle's) is the wonderful people that I've met since I've been here," Waddle said. "The best people in the area."
The store is located at 414 N. Coast Highway 101, and will remain open through Sept. 30 while Waddle tries to liquidate as much of his merchandise as possible. There's currently a last open mic poetry night scheduled for 7 p.m. on Sept. 14.
Mike Peterson is a North County freelance writer