Cyclists question safety of new Encinitas bike lane design through Cardiff
Encinitas officials have defended a new protected bikeway along Coast Highway 101 between Cardiff and Solana Beach that may seem inviting for less-experienced cyclists but has actually been the site of multiple accidents, even striking some of the area's most veteran riders.
Len Bourgeois, a local cyclist who has been riding for decades, said he suffered a double fracture to his collarbone after hitting one of the new bikeway's wheel stops in Cardiff, immediately flipping his wheel around and forcing him to the ground.
Bourgeois has yet to report the incident to the San Diego County Sheriff's Department, but he would not be the first.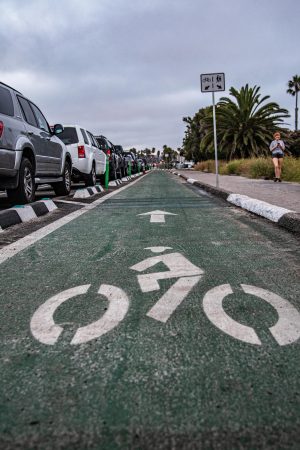 The bikeway project, which is not yet officially completed, has already led to four reported accidents, according to local authorities. While Bourgeois' case is not one of those, bicycling advocate Serge Issakov said he knows of at least 11 people who have been hurt along the stretch of road since about mid-April.
"With cycling being up due to quarantine, we're going to see a lot more people being out there and it's going to look especially attractive because now that it's protected, you're going to attract less-experienced cyclists," Bourgeois said.
The issue, Issakov said, is that the new bike lane includes wheel stops — similar to those at the end of parking spots — which disable riders from being able to react to sudden hazards without hitting their wheels and potentially getting into an accident. There are also plastic bollards along the bikeway, or large green poles, which Issakov said are less problematic.
"It might feel safe to the untrained eye," Issakov said. "You might not realize what the hazards are, so you think you're protected. But the hazards are there and the numbers are there."
Some of the reported accidents occurred before the wheel stops were painted with white stripes to better distinguish them from the road, city Traffic Engineer Abraham Bandegan said during a June 8 Traffic Commission meeting.
Accidents have continued to occur, however, cycling advocates say.
A particular area of concern appears to be the Chesterfield Drive intersection in Cardiff, where Bourgeois said he crashed while being forced to decide between entering the protected bikeway or the sharrow, meaning a car lane that can be shared with cyclists. Bandegan said at the commission meeting that a separate accident that was reported to the Sheriff's Department occurred for nearly the same reason at that intersection.
City officials were asked to comment for this story but did not respond with a statement by publication time.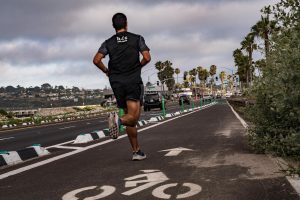 Many stretches along the bikeway, such as along the beach and San Elijo Lagoon, also don't feature adjacent sidewalks, which prompts pedestrians to walk along the bikeway in the way of cyclists.
Photos of pedestrians walking through the bikeway have become popular on the community Facebook group Encinitas: Please Restore Safe Cycling In Cardiff, where nearly 900 locals go to air their frustrations regarding the new bikeway.
One group member said that on a recent ride through the bikeway, they confronted at least 10 pedestrians on the road and six bicyclists riding the wrong way.
In the June 8 Encinitas city Traffic Commission meeting, Bandegan said the bikeway had already met its main goal of attracting more casual bike riders, and that the additional issues pointed out by "a group of sports cyclists" were anticipated.
"These are inevitable and we knowingly accepted this compromise when we accepted this design and when council voted for this design," Bandegan said at the meeting.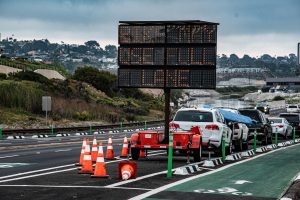 Installing a buffer zone between driving lanes and bike lanes would be safer than caging cyclists into a narrower area surrounded by wheel stops, Issakov said, compared to the current design, which only creates the illusion of safety.
And, at the end of the day, Issakov said he understands why the city would hop on the protected bike lane trend like it did, especially as part of its efforts to become a "pro-cycling" community.
"I don't think City Hall can be blamed or even the engineers can be blamed because this whole area of bike facilities and cycle tracks are relatively new and the studies aren't out there," Issakov said. "There isn't anywhere that says really clearly that you shouldn't do what they did."
Bandegan, however, said there are at least 10 projects in the state that follow a similar design.
"It's not like we've created something and now we have to defend it," Bandegan said at Monday's commission meeting.
Door-zone bike lanes voted down
Although local cycling advocates expressed disappointment in the Facebook group with Bandegan's statements defending the traffic design, they hailed the Traffic Commission for unanimously passing a motion that would forbid door-zone bike lanes.
Advocates say that such lanes pose hazards to bike riders, as they could be stuck by drivers opening their car doors in the bike lane.
Moving forward, Bandegan said at the meeting, the city plans to install more signs to inform pedestrians not to walk in the bikeway. Removing the wheel stops would require approval by the City Council.
---
Bella Ross is a local freelance writer.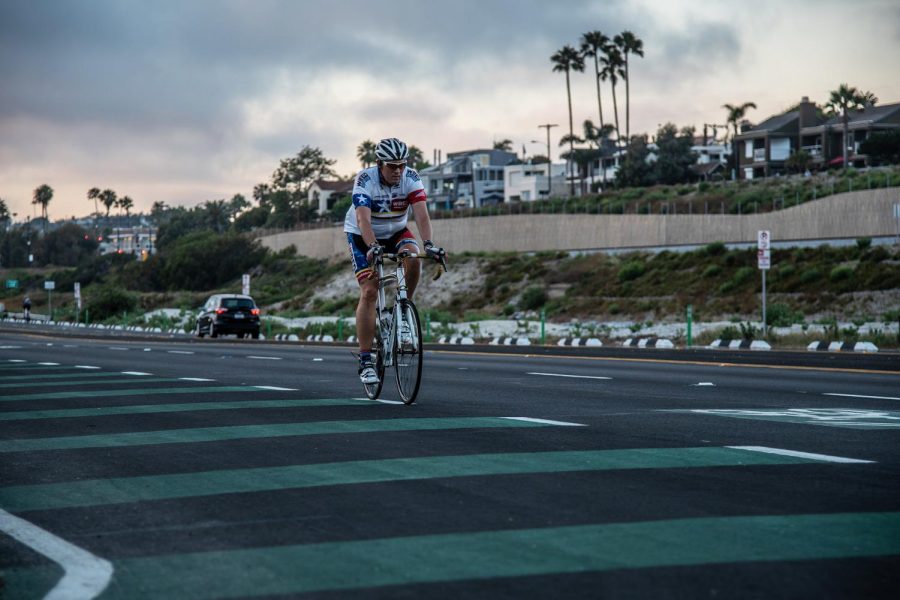 encinitas current, cardiff current