Visitors savor return of San Diego County Fair after pandemic lockdown
Organizers set 'Home Grown Fun' theme for lower-key event at Del Mar Fairgrounds
Long lines and big crowds have become almost as integral to the San Diego County Fair experience as fried foods. But this year's event is like no other.
Thanks to California's full reopening on June 15, the fair has been able to return until July 4, but not in full force. Admissions are following a reservation system to keep a handle on crowds, and some offerings that guests would enjoy in a normal year (such as the floral displays and petting zoos) have been put on hold.
Organizers set a "Home Grown Fun" theme for this year's return.
Despite the smaller scale, guests said they were happy to be able to come out and found that the reservation system made for a much more seamless experience.
"Nothing was stressful, which was nice," said Encinitas resident Courtney Leach, 35. "There were no lines, parking was easy, everything was super easy."
Since the state's reopening, attendees are not required to wear masks as long as they have been vaccinated or recently tested negative for COVID-19, according to the fair's website. Contactless forms of payment are encouraged to reduce the spread of germs.
Walking along the flag-lined food corridor, the fair's differences from a normal year were hardly top-of-mind. The smoke that scored each turkey leg to perfection carried a familiar scent, and the sounds of local musicians and giggling children made for a pleasant backdrop.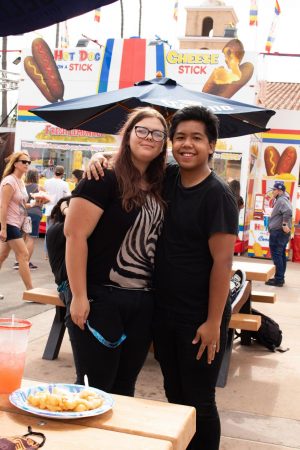 While there were fewer rides than a normal year, the staples remained in place, such as the Ferris wheel, a large carousel of swings, a few small coasters and G Force, for the thrill seekers. There was a decent selection of smaller kids' rides, too.
"I really enjoy seeing them ride the rides," said Encinitas resident Craig Leach, 35, who attended with his wife and two young daughters. "The look of joy on their faces is really cool."
Although there were no games, couples and parents were able to snatch stuffed animals at one of the fair's toy kiosks.
And, of course, there was no lack of food — the fair's main draw, for many.
"I have to get the ice cream bar that they sell, the corn on the cob and the small turkey legs," said El Cajon resident Harris Aldridge, 72.
If rides aren't your thing, there's plenty else to enjoy at the Del Mar Fairgrounds. Bing Crosby Hall was filled with vendors, selling everything from hair ironing tools to specialized dish scrubbers.
And if you saw a single crowd at the fair, they were likely corralled around the dog show or pig races, where piglets named Nancy Pig-losi and Kim Kardashi-ham raced in hopes of being the first to a small tin of Oreo cookies.
The county fair, still often referred to as the Del Mar Fair by locals, has become a cornerstone of summertime in San Diego over the years, and people were happy to be back after a year away.
"Today is our two-year anniversary," said Vanessa Caldwell, 19, sitting next to her boyfriend, Marvin Fajotina, 20.
"She actually asked me out at the fair two years ago, so that's why we come to the fair," Fajotina said. "It's our anniversary thing."
Morgan Cosgrove, 20, and Abby Lions, 22, moved from the Midwest to work in San Diego, but they said the fair felt familiar to them.
"We're not from here, and this kind of feels like home," Cosgrove said.
To attend the San Diego County Fair, attendees must make a reservation ahead of time at sdfair.com. Admission is $10, or free for children 5 or younger. Parking is $12.
---
Bella Ross is a local freelance writer.
encinitas current, cardiff current
Leave a Comment