Local theaters raise their curtains once again after yearlong intermission
In just days, theaters all across North County were forced to shut off their stage lights, send actors home and close their doors for almost a year since the start of the COVID-19 pandemic.
A year and three vaccines later, these performing arts centers, home to passionate performers, are finally staging a comeback.
In 2020, the Star Theatre Company in Oceanside was placed in a "striking" and "scary" halt, as described by David Schulz, the theater's managing artistic director.
It was not until this August that the theater abandoned its virtual productions and finally raised its curtains for "Air Turbulence," its first in-person performance since the closure.
Theaters like this one, among others in North County, have turned to the sanitary measures suggested by the Actors' Equity Association throughout the pandemic.
As a result, the Star Theatre requires proof of vaccination from all actors, crew and audience members in addition to face masks. Schulz was taken by surprise when he received zero complaints and even "thank you" emails about the measures. He said all members returned for their show tickets.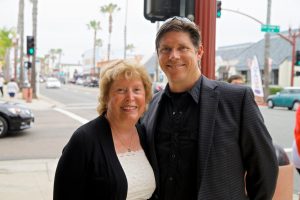 "I was over the moon. I couldn't believe it," Schulz shared.
Not all theaters were lucky enough to receive that response.
David Ellenstein, the artistic director at the North Coast Repertory Theatre in Solana Beach, took pride in having the virtual plays he produced during the shutdown recognized by national papers.
And when his theater reopened last month for in-person shows, he shared that 95% of his members were happy the Actor's Equity Association's guidelines were being enforced there.
The other 5%, however, not so much.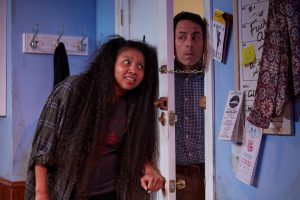 "A small minority sends nasty notes or threatens us with boycotts," Ellenstein said.
Ellenstein said he cannot guarantee that everyone will feel safe and respects members' decision to not visit the theater.
In Encinitas, Ovation Theatre Artistic Director Pamela Laurent's team got creative with its safety measures, using decorated face masks as disguises for characters during its January 2021 musical, "Shook Up."
"It was difficult but it was really rewarding," Laurent said about producing the roving play with socially distanced actors, pre-recorded singing and face coverings.
Laurent said she is happy to see her performing arts students rehearsing and performing in "their community," in "their tribe," once again.
All three directors commented they received an outpour of donations from supporters during the lockdown, only making their return on stage that much more magical.
"The theater is about making the world better," Ellenstein said. "The arts are about making the world better and if we are not doing that, there is no reason for us to be."
---
Roxana Becerril is a local freelance writer.
encinitas current, cardiff current