North County groups, schools partner
to help homeless veterans
When Mark Pilcher read an article about the current housing crisis, he didn't think about it as a one-sided story. He considered other reports about the rising costs of building materials, the number of veterans experiencing homelessness, and the shortage of tradesmen.
For the retired Fallbrook resident, it was an ah-ha moment.
"I saw these things around the same time and said, 'There's a solution where we can address all these issues,'" he explains.
As a result, he founded the Warrior Village Project, which aims to build affordable housing for veterans experiencing homelessness with the ultimate goal of creating multiple 12-unit villages. In these spaces, veterans can live independently and benefit from the camaraderie and the resources they need to thrive.
By working with local students studying construction trades, including those at San Marcos High School, North County Trade Tech and Montecito High School, the project has the added benefit of providing real-world trade experience and community service opportunities.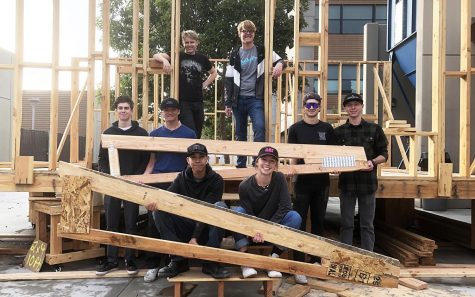 "It's a very attractive offering for the school," says Chris Geldert, instructor of building and construction trades at San Marcos High School.
When he was initially approached by Pilcher, the school was in the process of expanding its woodworking program to include other construction trades, so the timing was ideal.
"They've got a phenomenal woodworking program (at San Marcos High School)," Pilcher says. "(Geldert) wanted to do more for his kids; he wanted to start this building project."
Geldert says that around 22 students were involved in the process of building two units simultaneously — one of which has already been placed.
"It worked out really well because we have a district that was very supportive," he says.
The 400-square-foot home was crafted with care, and appointed with high-quality fixtures and furniture.
"When people come out and see it, they are overwhelmed," Pilcher says. "People have a vision of what a tiny house is — it's a shack or a shed — well, that's not what this is. They see how nicely furnished it is and the quality of it and say, 'Wow, this is amazing!'."
Mia Roseberry, executive director of Wounded Warrior Homes, which received the first home, agrees.
"It's gorgeous," she says, noting that it was placed as an accessory dwelling unit on one of the organization's veteran transition home properties and will be ready for its first resident after some minor grading work and a final inspection.
According to Roseberry, there are an estimated 800 homeless veterans in San Diego County. Some have been living on the streets for an extended period of time, but many others are simply struggling to find housing after leaving the military.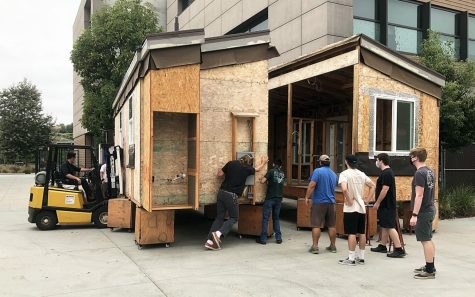 "If a person is worried all night thinking, 'Am I safe? Can I really sleep with both eyes closed and get sound sleep?', you're not going to have a solid employee or student or someone trying to learn," she says. "You take away those worries and you open up a lot of possibilities."
In her experience, she says that it is critical to offer assistance sooner rather than later, as the longer an individual is homeless, the higher the chances are that they will remain in that situation.
Though the need for veteran housing is dire, there are hurdles preventing more from being done to help them.
For Roseberry, it's the cost of housing that is preventing them from taking on additional properties.
"The nonprofit is carrying two mortgages and leases, utilities and a food pantry," she says.
Geldert says that they're waiting to place the second home before starting another, though he has plans to make modifications to future iterations.
"It's easier to place a home if you make a true ADU on a trailer," he says. "The building process is a lot less complicated because of code compliance, and they're easier to move."
And, he says, it would lessen the cost overall.
Pilcher admits that his goal is ambitious, but there is hope. When he first realized the idea, there was support. When the pandemic hit and students had to work remotely, industry professionals, businesses and sponsors stepped in to get the job done.
"North County is very supportive of the military," he says. "Almost everyone wanted to help out veterans and our students. They know that our veterans are homeless because they have gone through traumatic experiences. I'd like to see villages all over San Diego."
---
Charlene Pulsonetti is a local freelance writer.
encinitas current, cardiff current