Like Carlsbad, Encinitas considers
e-bike curbs in light of safety concerns
Coastal North County cities see an increase in accidents with the popular bicycles
Officials in Encinitas say that the city will likely push for more e-bike regulation and guidance, just a month after Carlsbad declared a state of emergency over the rising number of e-bike collisions.
Carlsbad issued the public proclamation in August, citing a 200% increase in collisions involving bikes and e-bikes since 2019. Subsequently, the city allocated $2 million in funding for immediate traffic safety efforts. Such initiatives included increasing traffic enforcement for e-bikes, expanding the striping on roads to allow for more space, and instituting a diversion program for young riders, who may complete a training course to avoid a citation on their first offense.
Statistical records requested from the San Diego County Sheriff's Department appear to show the number of bicycle/e-bike accidents rising in Encinitas well since 2019.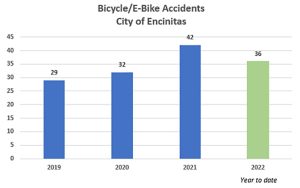 North Coast Sheriff's Station Capt. Dustin Lopez said that the data is consistent with what his department has observed in Encinitas in recent years and is unsurprising given the increasing popularity of e-bikes in particular. He said that he foresees Encinitas eventually following suit with some of the initiatives being rolled out in Carlsbad governing e-bike usage.
"I believed it (the accident numbers) were going to continue to go up based on fact that e-bikes are more and more popular. Based on popularity and the sheer number of riders, I believed that these numbers would continue to escalate," Lopez said.
"We have increased enforcement especially now that summer is over. We try to enforce by the level of education first before we go with a level of enforcement," he said. "I see in the near future us probably having a similar setup to Carlsbad as far as citing minor violators and having that first ticket possibly dismissed if they come to a safety class put on by the Sheriff's Department."
Encinitas Councilwoman Joy Lyndes, who represents the city's District 3, said that she's already in conversations with Carlsbad leaders on looking at how the new policies might play out in Encinitas.
"I've been keeping in touch with Carlsbad in terms of doing things that are the next step, I've been keeping an eye on what they're doing, and talking with their leadership on what's most beneficial," Lyndes said.
"I'm aware they are funding $2 million for a study to create initiatives, but they're also a bigger city with more resources, so we can evaluate as we move further with our own leadership here in Encinitas to see if we want to require similar mechanisms regulating the e-bikes on the street," she said. "Informally that's where my mind is going — the same direction as Carlsbad's going in — I want to be smart about learning from them, as their experience is very relevant to us."
"
Since I moved to Encinitas 2018, I've consistently seen a rise in patients in practices from e-bike injuries."
— Dr. Sanjum Samagh, orthopedic sports surgeon at Scripps Memorial Hospital Encinitas
In particular, Lyndes, like Lopez, voiced support for the idea of a diversion program for youth e-bike riders. The councilwoman also emphasized that officials would take a fine line of balancing e-bike regulation with the city's desire to encourage e-bike usage as an alternative mode of transportation.
"It's one of many modes of transportation to reduce greenhouse gas emissions … the community loves biking, being outside, and there's just a lot of interest in biking in general. We look at biking, walking, etc. as a collective group of ways to get around town that don't require fuel burned," she said.
Dr. Sanjum Samagh is an orthopedic sports surgeon at Scripps Memorial Hospital Encinitas. Samagh said that he and his fellow practitioners are considerably concerned by what they see as a significant rise in e-bike related injuries over the past couple of years.
"Since I moved to Encinitas 2018, I've consistently seen a rise in patients in practices from e-bike injuries," Samagh said.
"We've seen a lot of orthopedic injuries; sustained fractures, distill radius fractures of the hand or wrist, and also in the lower extremities such as fracture of ankles. We're also seeing a lot of head injuries, particularly if people are not wearing helmets … and so with that there's also been a rise in concussions," he said.
"At the end of the day, it's an easy and convenient way to get around town in Encinitas. A lot of time people don't follow rules of road on these bikes," Samagh said. "A lot of times younger kids may not know the rules of the road on these bikes but they're going at speed of cars … I think that more helmet usage, as well as e-bike registration, would be hugely helpful. These injuries have a huge impact on hospitals and our practices as well. One injury is a huge economic cost; it's a loss of income for the patient and the family."
Cindy Cremona, a candidate for mayor in Encinitas, said that she doesn't think that the city has been proactive enough on the issue.
"It's not a matter of if but when somebody is going to die … Scripps Emergency is seeing a dramatic increase in e-bike accidents … I think that Encinitas is better served if we were more proactive than reactive to a potential e-bike tragedy," Cremona said.
"Encinitas has been proactive for bike safety awareness, they're certainly adding a myriad of additional bike lanes. Where Encinitas falls short is structuring some legislation around safety measures and maybe implementing policies specific to e-bike usage," she said.
"What I'd like to see is a mandatory training completed by parents and their children at the time of purchase of e-bikes where they can potentially take safety class, get a certificate, have it filed within the city, and have all bikes registered with the city," Cremona said. "E-bikes especially should be subject to motor vehicle laws; some type of enforcement will probably force parents to become more proactive in regards to making sure their kids are staying safe on the streets."
---
Stephen Wyer is a local freelance writer.