News Education: College media programs battling multiple challenges
Instructors, students weigh declining production access, advertising, enrollments
When Advanced Web Offset, San Diego County's last large-scale offset printer, closed and subsequently merged with Anaheim-based Advantage ColorGraphics, the fate of local print publications — including those from high schools and colleges — hung in the balance.
This, paired with declining enrollments and ad revenue, the effects of the COVID-19 pandemic, and the rise of digital media, may lead some to believe that print media is on the decline.
But Point Loma Nazarene University journalism program director Dean Nelson explains that idea couldn't be further from the truth.
"The reality is, print newspapers still serve a very significant function and have very high readership in niche markets or in smaller communities," he says.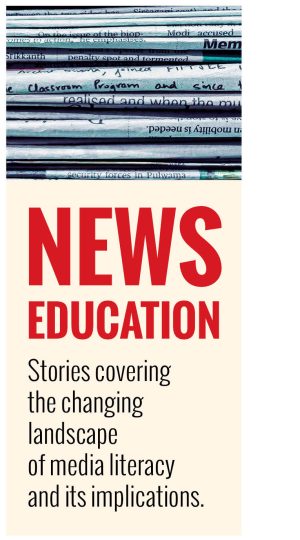 "Student papers are experimenting in magazine formats, and that's another successful form of local publishing," says San Diego State University Journalism and Media Studies program director Temple Northup. "They often get the most ad revenue."
Northup also advises against the complete loss of print.
"If you're looking for local news, it may be hard to find online rather than a paper coming to you and targeting you," he says. "With print going away, you potentially lose that last bit of local news coverage."
Taking into account all these elements, North County college publications at Palomar College, MiraCosta College and California State University San Marcos are feeling the squeeze as they work to adapt.
Not gone, but potentially forgotten
Palomar College journalism professor Erin Hiro recently announced the campus newspaper's transition to an online-only format.
"The biggest concern for The Telescope remaining online is that the campus community will forget that we have a campus newspaper," she states on its website.
As far back as 2018, Hiro noticed fewer people — especially students — picking up The Telescope's print edition. Hiro says she believes this is a generational phenomenon, which also ties into her observation that students have a harder time differentiating between analysis and fact. This may be because televised and online reporting doesn't always label the information as such.
"Misinformation is a big concern — that's something we try and counter by spending this focus on sourcing and putting sources in (stories)," she says.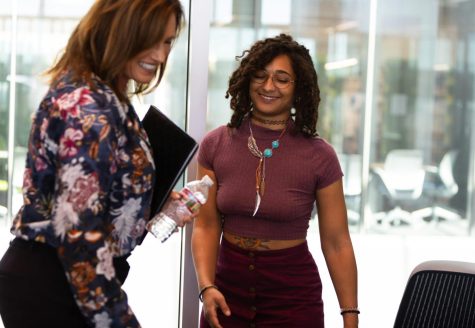 While digital news stories have their benefits, Hiro explains that the format isn't easy to navigate.
"Our readers click on the fun things to do, the fun things to see," she says. "They're interested in movie reviews, the sports, and how Palomar's doing, but we also want them to be interested in what impacts them."
She adds, "Nobody covers Palomar College but us. It is our job to serve as a watchdog, and (report) that Palomar is doing what it says it does."
Hiro clarifies that this is not an implication of wrongdoing, but rather, a reminder of the importance of journalism in a democratic society.
Students transferring out of Palomar are also affecting their program.
"You need a four-year degree in journalism — most students want to get their four-year degree," she says. "They don't have time to take all their classes, especially if they're on financial aid."
'You have to be that watchdog'
California State University San Marcos student and The Cougar Chronicle Editor-in-Chief Marbella Ramirez says that the paper is in a similar situation.
"We don't have an official journalism program," she explains. "It's hard to bring in students that are looking into journalism. … A lot of CSU schools are in the same predicament."
She says that CSU schools are sharing stories across each other's publication platforms. In addition, CSUSM students are networking with other entities on campus to promote their voices in their publications.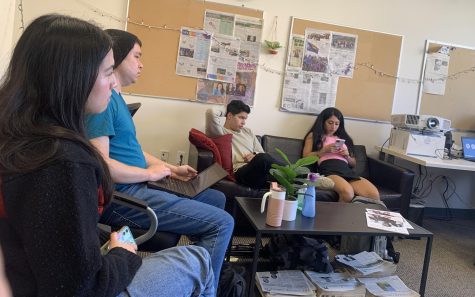 "We're using those resources to connect ourselves — we are all intertwined," she says.
While developing her San Diego Union-Tribune opinion piece, titled, "Student journalism programs are at a crossroads. Will print newspapers cease to exist?" Ramirez attempted to reach out to high school journalism programs around the county. She found that many were on hiatus or not currently working on a publication.
In addition, she shares that The Cougar Chronicle was one of the clients dropped in the Advanced Web Offset merger. One of her concerns is the missed opportunity for high schoolers and college students to showcase their peers in print.
"These students are our future," she explains. "How many will go beyond high school or college and make a difference? We always say, 'You have to be that watchdog,' but besides that, you have to be a supporter of these students' futures by being the first reporters."
She adds that student journalists help set the standards that cultivate their peers' idea of journalism early on.
"A lot of our students are getting news from social media at this point — we as students have to be a voice that's reliable," she says.
Ramirez says she is not deterred by their challenges. She has focused on improving The Cougar Chronicle's look and giving fellow students the chance to experiment with different ideas.
To better align themselves with new opportunities, she says, "We have to promote ourselves a certain way and push to make our website look amazing so we can get advertisers, and get help from the community."
On hiatus
The Chariot, MiraCosta College's student newspaper, went fully online during the pandemic, and as of this semester, it has gone on hiatus. The school does not have a dedicated journalism program, although it once did — rather, the paper is part of its Life and Leadership office and is run by student volunteers.
Assistant Superintendent and Vice President of Student Services Alketa Wojcik says that the decision was made after a deliberate review process that included consideration of how students preferred to receive information. She explains that The Chariot is funded with college funds for an adviser and operational funds from its Associated Student Government. It also sell ads, but those haven't been as successful in the past two years.
"With student input this coming year, we will look at what options best support our students in being informed and addressing issues," she says. "It will come back, but in what format or structure, it is yet to be determined."
In the interim, students receive a newsletter every Monday and will be able to read newsletters produced by other campus entities. According to Wojcik, the ASG is actively working to increase communication with students on issues on and off campus, which has included sponsoring the 49th Congressional District debate and co-sponsoring the League of Women's Voters forum around California propositions.
Optimism remains
Hope is not lost for print news and journalism as a whole. Some feel that a major hurdle is a misunderstanding of the industry.
"As I talk with college students about journalism, many will say, 'I think I'm interested in journalism, but I hate politics,'" Point Loma's Nelson says. "The assumption is that journalism is about politics."
Though he believes in the value of print, Nelson acknowledges that young people are using TikTok, Instagram, and other platforms to tell stories every day. He would like to see school administrators bring in professional journalists to inspire kids to take the reins.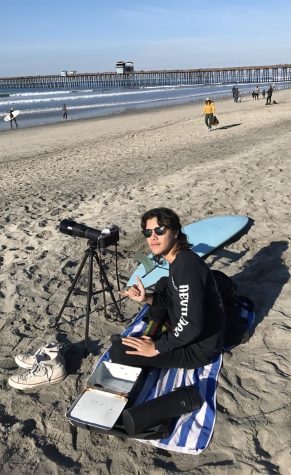 "I can't think of a single reporter in San Diego County who would not love to be involved in a high school or community college or even a middle school effort to produce some sort of a news program," he says. "If schools would connect with professionals, I promise they will be surprised at how ready professionals would be ready to help them."
Sparking that interest early is more important than ever.
"The only way a free society works is to have an informed citizenry," he says. "Having people who can tell a truthful, accurate, verifiable story to inform their public — that's the only way a free society works."
Despite the challenges that journalism faces today, a passion for storytelling is not in short supply. Many young people want to use their voices to make a difference in the world.
Alex Ortega, The Telescope's news editor, sees the move to digital in a positive light.
"I think it's all happened really fast. It's been the past two decades where online journalism has completely taken over, then in the last five to 10 years with social media news," he says. "I think it's one of those necessary things. Print news is really bad for the environment and costly, and it's not very cost-effective for a lot of newspapers."
He says that the benefits of online formats include the ability to make easy edits, and include multimedia elements like video, pictures, and podcasts.
And whether it's online or in print, Ortega says, "It's exciting and thrilling to cover stories and see your name published. … The aspect of seeking the truth and getting info out there is so important — it's an important part of my life now."

---
Charlene Pulsonetti is a local freelance writer.
encinitas current, cardiff current