What's in a name? 'Encinitas' can remind us of how things used to be
Native plants can return a sense of nature to suburbia while saving water resources
An especially rainy winter has resulted in a long-lasting, colorful spring not seen too often in Southern California. As a result, you may have noticed an abundance of vegetation and critters. It's a reminder that these two elements of nature go hand in hand.
Nature is resilient, but human activity and other factors have resulted in an imbalance. Fortunately, place names — such as "Encinitas" — can offer a glimpse into the past.
"Encinitas in Spanish means not only 'little oaks' but 'little live oaks,' and that's in reference to this part of coastal Southern California," says San Diego Botanic Garden President and CEO Ari Novy. "Because we are a low-water region, those live oaks would not have gotten big except where there was a natural waterway. But they would have been dominant species among the chaparral."
For indigenous peoples of the region, oak trees and other native plants have traditionally served as food, shelter and medicine. However, as the area developed, first for agriculture and then for dense human habitation, the abundance of native plants declined.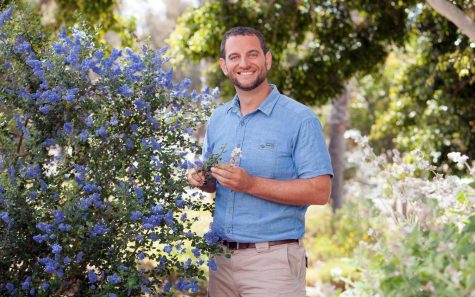 People come to Southern California for the climate and the ocean, but Novy says, "If there are no plants here, it's not a great place to live."
Several oak tree species can be found locally, and they play a critical role in the environment's overall health.
"Many birds, mammals, reptiles and invertebrates utilize oak trees and woodlands," says Doug Gibson, executive director of the Nature Collective. "Oaks are among the most important wildlife plants. Planting native plants increases biodiversity, and a wide range of animals and plants ensures a healthy ecosystem that we all rely on to provide clean air and water."
While development has impacted native plant populations, Gibson explains, "Although pathogens and pests are threats to coast live oak in Central California, here in Encinitas, we find that the biggest factor impacting the oak tree population are invasive plant species like pampas grass (Cortaderia jubata) and tree-of-heaven (Ailanthus altissima). These invasive plants outcompete for valuable resources like water and sunlight from natives like the coast live oak."
Because climate change increases variability in wet and dry cycles, he continues, "This variability often decreases the amount of available water and increases fires. Fires burn and scar the ground, negatively impacting the ability for oak tree growth."
Hope is not lost, though — everyone, from homeowners to property owners and local municipalities, can restore lost habitats and establish new ones by choosing native species.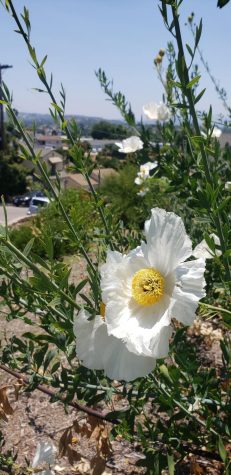 John Corning, owner of Kelly Green Native Landscape in Encinitas, says there is a misunderstanding in this approach.
"You can set up irrigation on your property and (smartly) irrigate," he says. "It doesn't have to look like a hike in the summer when everything is dead. You can have it look green and nice if planted and placed well."
The best approach is to look at what you already have in place, even if that includes non-native species.
"I try to be practical about it and make it as functional as possible, and from there, have an artistic eye on it," Corning says. "I like visualizing it beforehand, and people are very enthused about native plants or very specific plants, which makes me even more happy."
There are several online and in-person resources for finding species that will work for your situation and garden goals.
Calscape.org, offered through the California Native Plant Society, allows you to enter your exact location, then choose from categories such as grasses, trees, butterfly hosts and more. There are even categories for low-water plants and plants that are easy to maintain — a search for Encinitas lists 590 plants alone.
Novy suggests contacting organizations such as the Master Gardeners of San Diego County and the University of California Cooperative Extension. Local nurseries, such as Neel's, 466 N. Coast Highway 101 in Encinitas, are also a resource. In addition, the California Native Plant Society San Diego Chapter, has a San Diego chapter.
You can visit The Native Plants and Native Peoples Trail at the San Diego Botanic Garden for insight into local native plants and the relationship the Kumeyaay people have with them.
The Nature Collective, Gibson says, "has goals to establish a native landscaping model on a soon to be acquired piece of property in Encinitas. This model will serve as a visual example to landscapers and the public about how native plants, besides providing habitat for wildlife, can also look beautiful in garden-like settings."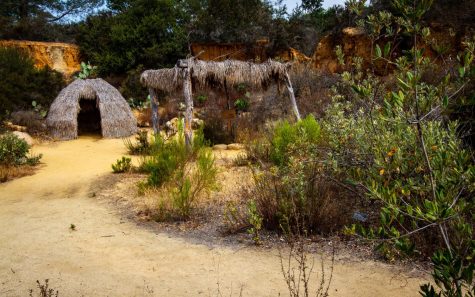 Corning's passion for native plants was fueled by the Surfrider Foundation's Ocean Friendly Gardens program, which emphasizes retaining water during the rainy months and mitigating potentially harmful runoff. Friendships and knowledge gained through involvement with the organization led him to learn more about the surprising variety of plants that do well in the area, which he now passes on to clients.
"One that a lot of people like is the manzanita … they're evergreen and have beautiful red bark. You can get them for ground cover or in tree form," he says, citing mountain lilacs and buckwheat grasses as other popular choices.
Novy suggests planting Shaw's agave: "That's our native local agave that requires almost no water and is endangered."
He adds that it will occasionally grow a 15-foot-tall flowering stalk which attracts birds, bees and butterflies.
Planting native species can bring about savings as well.
"
An incentive for people to incorporate native plants into their landscaping is maintenance and water reduction.
— Doug Gibson, executive director of the Nature Collective
"An incentive for people to incorporate native plants into their landscaping is maintenance and water reduction," Gibson says. "Once established, native landscaping can reduce maintenance by eliminating the need to mow or fertilize lawns, and native plants require less water, reducing water bills and preventing water runoff."
Seeing native plants in the wild is a great way to learn about their potential.
Novy suggests visiting the Manchester Preserve Hiking Trails and San Elijo Lagoon Ecological Reserve and Nature Center to understand what the city was like before it was developed.
At San Elijo Lagoon, you can see a recently planted oak grove at the base of Annie's Canyon Trail, which the Nature Collective established in honor of founding member Bob Moore.
Thanks to research from groups such as the San Diego Botanic Garden, the list of native plants being added to the list of viable options for sale to the public is growing.
Everyone can learn and be inspired by this movement, Novy says.
"When kids are able to get out and see how nature functions and people can walk through the lands and smell the California wormwood, it brings a value to what we do as people and our wellbeing — that's immeasurable."

---
Charlene Pulsonetti is a local freelance writer.