Artist pins hopes on expanding work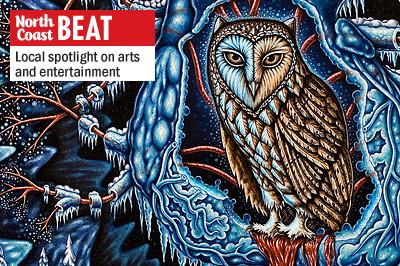 Cardiff-by-Sea artist Scott Saw, 41, is taking a leap of faith. For the first time in nearly 15 years of creating art by night, he has gone full-time.
"It's a very tricky time to go full-time with the addition of my second son, but I am very passionate about what I am doing," Saw said.
The San Diego State University graduate creates fine art and is a pinup-style photographer; not being able to survive solely from his art he held a graphic design job up to last year.
He treated his art like a second job, focusing on it only after his family went to bed. But it's now beginning to pay off, especially his photography.
"It's actually paying my bills at this time," Saw noted.
His pictures are not ordinary images; he describes them as sexy and fetish. He does it all out of his Vixen Photography studio at Cedros Avenue in Solana Beach, where he not only has been shooting covers and centerfolds for national alternative magazines, such as Tip-Out Magazine and Inked Girls, but also for everyday women exploring her inner vixen.
"My phone is ringing; different magazines are sending me models and there are a lot of people wanting their pictures taken," Saw said.
He credits his success as a photographer to his dedication and passion.
"If I spend an hour taking a picture, I spend 20 hours editing it," he said.
Although photography is taking up most of time, Saw continues to make time to produce fine art.
On June 8, he unveiled Spaces in Between, a solo exhibition of oil paintings on showcase until July 6 at Subtext Gallery in downtown San Diego's Little Italy. The collection of 24 pieces documents his love life, the recent birth of his son and "all the stuff that happened in between."
"We all want to accomplish something. However, we spend the vast majority of our time in between getting to where we are going," he pointed out, as he further explained his theme.
In Spaces in Between, Saw's ever-present symbols – organs, skulls, butterflies, trees and stars – are richly included, same with his signature red and blue veins.
Since his college years, Saw has pulled his inspiration from the idea of birth, death, sex and spirituality.
Nonetheless, his father, who taught art and design locally for more than 30 years, was that early inspiration that got Saw started in his art. As a boy, he would often see his father paint out of a home studio and exhibit his art at galleries.
"I got to experience the emotional energy (my father) would put into his art. I thought it was pretty cool," Saw recalled.
Spaces in Between is shown by appointment only at Subtext Gallery, located at 2479 Kettner Blvd. The gallery can be reached at 619-459-2332.
For the first time, on Aug. 11, Saw is having a pinup photography exhibition at Ducky Waddles in Leucadia, 414 N. Coast Highway 101, from 6 to 10 p.m. Visit www.vixenphotography.com to see galleries, and for bookings and reviews.
Vixen Photography can also be followed on Facebook and Twitter @vixen_photo. To see and purchase prints of Saw's fine art, visit www.scottsaw.com.
Ernesto Lopez is a San Diego freelance writer