Point of View: Locals in spotlight to revive film commission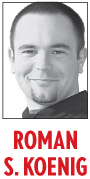 Our region is in need of a film commission, and thanks to the efforts of some key players on the North Coast, we just might see it go from script to screen.
County Supervisor Dave Roberts (a former Solana Beach city councilman) and Encinitas arts Commissioner Francine Filsinger (who serves on the board of directors of San Diego Filmmakers) have joined a growing chorus calling for a sequel to the region's now-shuttered film commission. Count San Diego Mayor Kevin Faulconer as one of the top-billed stars in the effort.
The decommissioning of the original San Diego Film Commission in 2013 was a major blow to the local filmmaking community, of which I'm a part. Like the shattering of the local news business, a patchwork of organizations has scrambled to fill the vacuum left behind, led by progressive educators, activists and filmmakers.
As reported in the North Coast Current's Oct. 3 cover story on the development of a new film commission for the region, the motivation of resurrecting the agency is largely an economic one. But as those involved also noted, there is an important artistic, social and cultural motivation, as well.
For me, as a working media professional and educator, I have seen the direct effect of the original film commission's loss.
The current lack of a streamlined permitting process, for example, where professional and student filmmakers can gain clearances to use public and private spaces for production, has forced filmmakers to "go it alone," negotiating with individual government agencies and property owners across the county. This harms the production process, which like journalism runs on deadlines. That, in turn, hurts the bottom line.
In these cases, professionals leave for other regions. Student filmmakers are forced to wing it, praying they don't get caught filming guerilla-style on properties when they don't have clearance to do so.
San Diego City College, where I teach, offers a course in preproduction, designed to help student filmmakers navigate the challenges of the film permitting process. That's tough to teach when the region's climate is so lukewarm to such a vital industry.
When I was a film student at San Diego State, the city's film commission was instrumental in helping me gain locations for my projects. It had a library full of public and private properties whose managers had signed on to be accessible to filmmakers. As a professional, they were equally as helpful.
I have also now experienced firsthand how the local industry fares without the film commission. Without its incredible library of potential locations to scout, I've missed out on reviewing hundreds of building interiors that might be ideal for a film location.
The lack of a film commission has had a benefit, ironically.
With its closure, filmmakers have rallied around the local industry, with organizations such as San Diego Filmmakers and the San Diego Film Consortium bringing producers, directors, writers, actors and others together for networking and production support.
These organizations don't fulfill the purpose of a regional film commission, however.
The region needs a unified industry, economic and artistic voice to promote what makes San Diego special.
It matters to you, too. Film productions open the doors to jobs in the region. And for movie and television fans, you get to share your community with others around the world, where you can say with pride: "See? That's where I live."
Roman S. Koenig is editor and publisher of the North Coast Current. Columns are the opinions of the writer and do not necessarily reflect the opinions of North Coast Current ownership. Comment below or submit letters to the editor at [email protected].