Encinitas receives nearly 5 inches
of rain in 24 hours Friday
Weather Service: Five-day total hits 7.39 inches
Encinitas recorded nearly 5 inches of rain in 24 hours as of 7 p.m. Friday, April 10, as a low-pressure system parked over Southern California drenched the region over the past several days.
The deluge is in addition to the nearly 5 inches already accumulated over five days as of 8 a.m. Friday, according to National Weather Service updates. In the 7 p.m. update, Encinitas received 4.75 inches in a 24-hour period.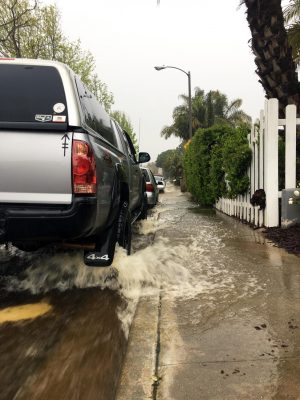 The city of Encinitas closed Lone Jack Road, from Crystal Ridge Road through to the east of Stratford Knoll, in Olivenhain on Friday because of heavy flooding.
A flash flood warning remained in effect until 8 p.m. An urban and small stream flood advisory was set to expire by 9:30 p.m. Severe flooding and landslides were reported throughout north San Diego County.
The National Weather Service's San Diego office reported 7.39 inches of rain in Encinitas during the five-day period ending at 7 p.m. Friday. Carlsbad, with its station at McClellan-Palomar Airport, saw 6.28 inches of rain. Oceanside saw 5.72 inches, and Escondido recorded 5.37 inches, according to the Weather Service's map. San Marcos received 6.20 inches of rain.
In San Marcos, Bent Avenue, Via Vera Cruz, Foxhall Drive and Discovery Street were all closed Friday because of flooding.
Encinitas normally sees about .3 of an inch of rain for April.
Skies were expected to clear Saturday.
(Story updated 4/10/2020 at 7:35 p.m.)
encinitas current, cardiff current