Preserved Home: The wonder of homemade bread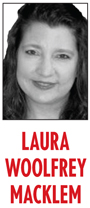 I grew up in Escondido, near a fun little bread outlet on Midway, close to what used to be Thrifty and Alpha Beta. They had Twinkies, those little wax bottles with "juice" in them, and Wonderbread. My family bought Wonderbread every week – white, thin and light as a feather.
I remember smooching it together with my fingers till it was all gummy, and making mayonnaise sandwiches with it. OK, yuck.
These days, I'm making my own quality sandwich bread each week, and without a bread maker. It's quick, easy and rivals artisan bakery bread.
Prepare to be impressed with the quality and ease in making this bread. When people gush over how good my bread is, and seem amazed at my bread-making talent, really it's embarrassing. It's like I'm getting credit for something I didn't earn. It's not me, it's the recipe. In fact, soon, I'm going to teach my 8-year-old how to put the mixture together as one of her chores.
I discovered a no-knead method of bread baking after reading the book, "Artisan Bread in Five Minutes a Day," which you can find in some libraries.
For me, this book is a must-have in a cookbook collection. There are master recipes, sweet and savory, that can be used to make a variety of breads, including challah, olive bread and brioche. Most doughs last 14 days in the refrigerator, allowing you to use the dough in batches. For the sandwich bread, I use the entire recipe at once.
I bake sandwich bread in a Pullman loaf pan, which yields a long, flat-topped loaf just like store-bought. The pan has a sliding lid, which prevents the bread top from arching. You want flat-topped bread, otherwise the slices will be rather large, or teeny-tiny.
A couple of things about homemade bread: Because it's so fresh, you must toast the slices longer. Also, lacking preservatives, the bread only keeps about a week. For slicing, I use a serrated blade on my deli-slicer, or you can use a large, serrated knife.
"Artisan Breads in Five Minutes a Day," by Jeff Hertzberg and Zoe Francois, was the first of three books. They have also penned "Healthy Bread in Five Minutes a Day" and "Artisan Pizza and Flatbread in Five Minutes a Day."
Like most books, there are a few mistakes, so you should reference the correction section on their website, www.artisanbreadinfive.com, where you will also find recipes. I have adapted two bread recipes I use most often. When making the oat flour bread, do not purchase oat flour – save money and simply pulse regular oats in your food processor to make quick flour.
Making your own sandwich bread provides you a healthy, delicious offering for any meal, at a fraction of the cost of even the substandard store variety. I buy my white flour and yeast at Costco. The 25 pound bag of white flour at my store is under $7, a container of yeast is just a few dollars. Buying these ingredients in bulk brings down the total cost of your bread significantly.
The following adapted recipe can be used to make either light-wheat or oat flour bread.
Light-Wheat or Oat Flour Sandwich Bread
Adapted from "Artisan Breads Five Minutes a Day," by Hertzberg and Francois
1 1/2 tablespoons yeast
1 1/2 tablespoons Kosher salt
3 1/2 cups of warm water
5 1/2 cups white flour
2 cups whole wheat flour or 2 cups of oat flour
Mix yeast, salt and water. Stir with a whisk. Add both flours. Mix until blended. Dough will be on the thinner side. Place towel over bowl and let rise for two hours. Store in a tightly covered container for up to 14 days.
When ready to use, turn dough out on lightly floured counter. Dust dough with flour and work into a ball, turning dough underneath as you turn. Place dough in well-greased Pullman pan. Let rest 45 minutes to an hour. Bake for 45 minutes. After bread is done, take out of pan and let cool.
Laura Woolfrey-Macklem is a former North County resident who produces the Preserved Home blog. Visit www.preservedhome.com. Send questions and comments to [email protected].