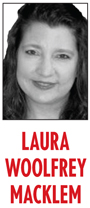 "Kids, mommy is making dinner with kitchen trash again!" announced my husband loudly. "Ewwweeee!" exclaimed my two young children, wrinkling their little noses in disgust. He loves to needle me about my frugality, but this time it resulted in some fast-talking on my part about how it's food, not garbage, if you employ some creativity.
You see, I'm into what I call "compost cuisine," which is basically an effort to use up every bit of produce, and food in general, instead of throwing the food in a compost bin or garbage.
It makes me uneasy to squander food. According to the Natural Resources Defense Council, 40 percent of food is wasted by Americans, with each person responsible for 20 pounds of wasted food each month. And this is likely not salvaged scraps, but prepared, fresh food. I'm sure that number would drastically jump if inconvenient, yet perfectly good morsels such as onion tops and carrot skins were included.
Because I cook most dishes from scratch, I end up with a lot of vegetable scraps, which are full of nutrients and flavor. When I peel carrots, onions and garlic, and trim celery, the scraps go into a freezer bag. I might throw in some tomato ends or bell pepper pieces, but for the most part I stick with the revered trinity of fine cooking – onions, celery and carrots. Mirepoix, to be exact; or aromatics, if you will. See, my kitchen scraps have class.
After I acquire enough aromatics in bags, I boil the vegetables in water and bones from a roasted chicken, or an inexpensive cut like leg quarters. The result is a rich, brown stock, which serves as a nice base for soups, rice and other dishes. Sometimes, I add chicken base to the finished stock to boost flavor.
Other food items often fodder for the garbage are broccoli and kale stems, both which make fine little pickles. Instead of dumping pickle brine out of an emptied jar, I often add kale and cut broccoli stems in the cucumbers' stead, and let sit for a few days. Here are other ideas for making the most out of your food supply:
Save broken pieces of spaghetti and use them to make rice pilaf.
Grate broccoli stems and use in stir-fries and salads.
If you have a dehydrator, clean out your fridge every week and dry anything that might go to waste.
For leftover hamburger buns, or other bread that is going unused, place on cookie sheets and let sit overnight. Grind into breadcrumbs and store for another time. Or, chunk the bread while still fresh and then air dry. Store for stuffing cubes.
If you are making spaghetti sauce, look for stray carrots, eggplant and celery, or other vegetables in danger of shriveling up. Chop and add to the sauce. (With carrots, you want to shred, not chop, because carrots take longer than most veggies to cook.)
The ends of bread are a hard sell, so trick your family by putting a filling on the crust side of the bread, exposing the outside of the ends.
Dry citrus and apple peels and use in homemade teas. I also put citrus peels in vinegar as a floor mopping solution.
After cutting corn off the cob, freeze the cobs and use later when making soup or stock.
Did someone forget to cover the cheese, and now it's hard? Put the cheese in the freezer, and grate for melting in casseroles or other dishes.
Don't throw away your ham bone – add a pound of beans, water and a few vegetables, serve with rice and you can feed 10 people. You can find the recipe for this dish on the Preserved Home blog under "Red Beans and Rice."
Issue yourself a challenge – slash your grocery allowance in half for a week and try using what's already on hand. Use the ingredient search on www.allrecipes.com, and put together a meal with a little of this and that. You never know. You may have an unexpected feast in your fridge and pantry.
Laura Woolfrey-Macklem is a former North County resident who produces the Preserved Home blog. Visit www.preservedhome.com. Send questions and comments to [email protected].