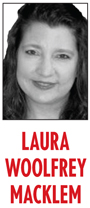 One of my favorite childhood memories is our annual fall trip to Bates Nut Farm to get a pumpkin. There were no bounce houses, vendors or face painters at the pumpkin patch back then. It was just pumpkins. And it was wonderful.
Growing up in the 1970's and '80s, everyone in my neighborhood only had the typical orange pumpkins on their porches. I don't remember seeing white pumpkins, called "Casper," or dark green varieties adorning their home entrance. No wide, flat-topped pumpkins with dramatic lines rich in color. We just had plain old pumpkins, which were destined for the trash Nov. 1.
Today, the farmer's market has boxes brimming with an array of showy pumpkins and other winter squash. Some appear covered in warts, while others are green and white striped, or yellow. The Fairytale pumpkin favors the shape of the carriage which carried Cinderella to the ball.
With such a variety, I no longer limit myself to the traditional jack-o'-lantern type. My fall display is colorful, with picks such as Casper, Fairytale and Harvest Moon. And when the time is up for my patio's fall pageantry, I bring the winter squash inside for preserving.
After lugging in all the pumpkins, I get to work.
After washing them down, I cut the pumpkins in large pieces. I lay each piece down on a baking sheet with about quarter-cup of water in the bottom. Do not coat the baking sheet with cooking spray. Preheat oven to 375 degrees, and cook pumpkin until tender. Baking times will depend on size of pumpkin chunks.
There are several ways to preserve pumpkin, but canning puree is not one of them.
It is not safe to can any puree of winter squash or potatoes. Because these types of purees are so dense, the middle does not reach the heat level required to kill bacteria. Industrial canneries can do this safely, however. This also applies to pumpkin butter. You may can chunks of winter squash using a pressure canner. It is never safe to water-bath can pumpkin chunks unless they have been pickled.
The most common way to "put up" pumpkin is by freezing puree. Pumpkin freezes well. However, with the amount of pumpkin my bounty yields, my freezer cannot afford a pumpkin puree overload after freezing summer's fruits and vegetables. A great alternative to freezing is dehydrating.
I dehydrate my pumpkin and make pumpkin powder. Stay with me – this isn't as wacky as it sounds.
After you puree your pumpkin, spread on a flexible sheet or tray suitable for your dehydrator or convection oven. Dry at 125 degrees until there are no soft spots on your sheet of pumpkin. Peel off the sheet, and let dry. Cool completely, then break into pieces.
In a food processor, grind pumpkin into powder, then place in a pan and back in the dehydrator for a couple of hours. This will take out any last bit of moisture, which would lead to clumping. Store in an air-tight jar in the pantry.
What might you do with this fun little powder?
All you do is add boiling water, stir, and let sit for about five minutes. The ratio is 1 part pumpkin to 2.5 parts boiling water. You can adjust to your tastes. Now you have pumpkin to use in pies, soups, breads and other recipes. It's like magic.
A great recipe using this pumpkin powder is baked pumpkin oatmeal. It's like eating pumpkin pie for breakfast. A little whipped cream makes it extra special.
Pumpkin Pie Baked Oatmeal
15 ounces of pumpkin puree
2 large eggs
½ cup brown sugar
1½ tsp pumpkin pie spice
½ tsp salt
¾ tsp baking powder
½ tsp vanilla
1½ cups milk
2½ cups dry old-fashioned (not quick) oats
Instructions
Preheat the oven to 350 degrees. Mix the pumpkin, eggs, brown sugar, spice, salt, baking powder and vanilla. Whisk in milk.
Combine oats and pumpkin mixture. Prepare an 8-by-8 baking dish with nonstick spray. Spoon mixture in dish and cover with foil. Cook for 30 minutes, remove the foil, and cook an additional 15 minutes. Serve with whipped cream.
Laura Woolfrey-Macklem is a former North County resident who produces the Preserved Home blog. Visit www.preservedhome.com. Send questions and comments to [email protected].