Out of all the cookies you could possibly make, sugar cookies say Christmas best of all. Cut in shapes such as reindeer, sleighs, and angels, painted with colorful frosting and embellished with sprinkles of all sorts, sugar cookies are the jolliest cookie jar offering.
My cousin labors over her sugar cookies, coating them with perfectly tinted frosting and adorning them with candy beads and decorative detail. She makes cookies fit for any fine bakery. I'm not quite there yet. We pretty much shake sprinkles over them and call it a day, but the shape and texture of my cookies are perfection.
I have experimented with cookie recipes throughout the years. I would cut the cookie out, and the indefectible shape would morph into something unrecognizable while baking. Not very festive. They would also either be too crisp, burn, or have a too-soft result. They were either overly puffy, or flat. No matter what I tried, it was a vexing result. After years of trial, I now have triumph.
The recipe I use now yields a crunchy exterior and a soft center. To decorate your cookie with ease, the cookie should be firm. A soft exterior could flake while frosting, muddling your confection with crumbs.
To solve the issue of burning, I use a silicone baking mat. I have never burned a cookie since investing in one. I actually have three of them, to make it easier to rotate my trays in and out of the oven.
Besides burning, another common dilemma is the flat cookie. This can be solved in a few ways.
I always chill my cookie dough before baking. However, beware of baking frozen cookies at the same temperature as non-frozen, as the frozen cookies will end up burned, but somehow still raw.
Also, be mindful of what constitutes "softened butter." You don't want your butter so soft that it collapses when you squeeze the sides. The butter should be just soft enough to incorporate with the other ingredients. Never microwave your butter to soften for baking. Microwaves do not heat evenly, and you will get a mixed result of still-too-hard and melted butter.
My mother's trick for making cookies more "fluffy" is adding a little extra flour. If you find that, despite all the careful softening, chilling, and employing other tricks to avoid flat cookies, put in just a tad bit more flour. Some people also use half butter and half shortening to solve this problem. This sugar cookie recipe is a proven winner and should not require any adjustments.
To frost sugar cookies, you want to use royal icing, which is made with either meringue powder or cream of tartar. You can find meringue powder easily at craft stores that carry Wilton baking supplies. Royal icing becomes stiff, allowing you to decorate on top of the hardened icing, and prevents the frosting from smearing. By using this icing, you can safely store decorated cookies in a cookie jar with no mess.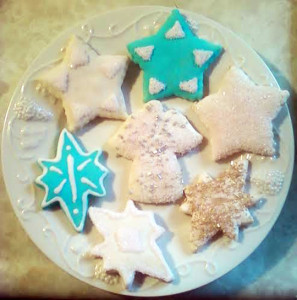 This year, I might branch out beyond the sprinkles and get creative with royal icing. Such a perfect cookie deserves more attention than a few shakes of sugar.
Shapely Sugar Cookies
1½ cups butter, softened
2 cups white sugar
4 eggs
1½ teaspoons vanilla extract
5 cups all-purpose flour
2 teaspoons baking powder
1 teaspoon salt
Preheat oven to 375 degrees. Combine softened butter and sugar. Mix until smooth. Beat in vanilla and eggs. Combine flour, baking powder and salt, and incorporate into wet mixture. Cover and chill for at least two hours. On a floured surface, roll dough into a ¼ to ½ thick sheet. Using floured cookie cutters, cut out shapes and place 1 inch apart on cookie sheet lined with parchment paper or a silicone baking mat. It's best if the cookies are about the same size to ensure even cooking times. Bake for about 5-8 minutes, or until done.
Royal Icing
3 cups confectioners sugar
¼ teaspoon cream of tartar
2 beaten egg whites
Sift together sugar and cream of tartar. Beat in two egg whites until mixture is thick enough to hold its shape, about five minutes.
Laura Woolfrey-Macklem is a former North County resident who produces the Preserved Home blog. Visit www.preservedhome.com. Send questions and comments to [email protected].