I'm always looking for tricky ways to save money in the kitchen without compromising taste. One ingredient that's always a winner is rice.
Rice can be used in sweet and savory dishes. It's a star in Indian, Latin and Asian cuisines, tempering spice and carrying rich sauces. Exotic or everyday, humble or haughty, rice has something to offer an assortment of tastes.
A blank canvas for flavor, rice can be made something special with a little attention. Cook rice in broth, or pureed tomatoes instead of water. Make your own version of Rice-A-Roni by toasting the rice in butter with leftover broken pasta noodles and minced onion before adding broth for a flavorful side dish.
When making hamburgers or homemade sausages, bulk the mixture up with rice to lower the fat content. Add rice to meat and bean burritos and tacos. Serve chili over rice to quell the heat for little ones and to extend portions. Instead of adding noodles to chicken soup, add rice.
Many people complain their rice never turns out. If you stir your rice when cooking it, you will get a gloppy result due to the starches. When you add the rice to the liquid, stir once and cover. You know the rice is done when little holes appear on the surface. After your rice is done, remove from heat and place a clean kitchen towel over the top for about five minutes for a fluffy result. Remove towel, and fluff with a fork. If I'm not serving it right away, I cool my rice on a cookie sheet in an even layer to prevent carry over cooking. This is especially a good technique if you plan on making stir-fried rice, as this type of dish requires cool rice.
I usually make a double batch of rice and freeze half for a busy night. Many people don't know that rice can be baked. Brown rice takes much longer than white rice to cook, so I opt for the baking method.
Some may take the easy route with instant rice, but for me, instant rice tastes fake and is very expensive considering I can buy rice for 32 cents a pound at my Costco. Of all the places to take shortcuts in cooking, using instant rice shouldn't be one of them.
One way to make rice extra special is to make rice pudding. I love that my recipe doesn't require precooked rice and can be thrown together in the slow cooker in minutes. With the help of nutmeg, this rice pudding has comforting notes of custard. This is a perfect offering for a family on a budget.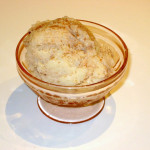 Slow Cooker Rice Pudding
Serves six
3/4 cup white rice, rinsed
3 cups milk
3/4 cups granulated sugar
1 teaspoon ground cinnamon
1/4 teaspoon ground nutmeg
1 pinch salt
1/3 cup melted butter
Spray slow cooker with cooking spray. Combine rinsed rice, milk, sugar, spices and salt all in the slow cooker. Pour butter over rice mixture. Cover slow cooker, and cook on high for about three hours. Serve hot or cold.
Baked Brown Rice
1 ½ cups of brown rice
2 ⅓ cups of water
2 tablespoons butter
½ teaspoon salt
Preheat oven to 375 degrees. Put rice in an even layer in an 8-inch-square dish. Boil water and butter in a covered saucepan. Add salt once boiling. Pour water over rice and cover tightly with two layers of foil. Bake for an hour.
After rice is done, fluff with fork and cover with a towel. Let the rice rest for five minutes.
Laura Woolfrey-Macklem is a former North County resident who produces the Preserved Home blog. Visit www.preservedhome.com. Send questions and comments to [email protected].