Preserved Home: No need to pucker over sauerkraut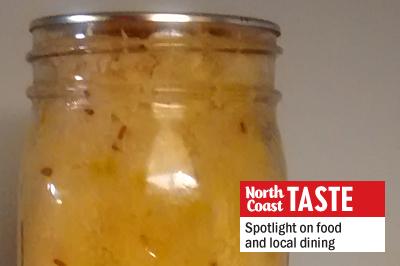 I grew up on canned sauerkraut, but homemade is just much better, and a lot less expensive. You can add caraway seeds to the cabbage during fermentation, afterwards, or not at all. Homemade sauerkraut is a great pantry staple, and it's easy to make.
For every 5 pounds of cabbage, you will need 3 tablespoons of salt. First, cut the core out of your cabbage. Shred your cabbage and mix with salt. Put cabbage mixture in a crock, bucket or another food-grade container. Now beat the heck out of the cabbage with a large wooden or plastic spoon until juices start to release. This is a great chore for kids.
I leave mine to set for awhile to let the salt do its job, and then come back and tamp down more. The goal is to have enough liquid to cover the cabbage. If you don't have enough liquid, simply make a saltwater solution and add to mixture.
Place a plate big enough to cover the cabbage over the mixture. Put a heavy weight on top of the plate. I used two mason jars filled with water. Cover with towel. The fermentation process should take about three to four weeks. Check the cabbage a few times a week, and spoon off any scum that accumulates.
I can my sauerkraut using the raw-pack method, which means I don't heat my sauerkraut before canning. Follow the basic method for sterilizing jars, rings and lids, remembering that you can reuse rings but not lids. Fill prepared jars with sauerkraut and brine, and run a dull knife around the edges to check for air pockets. Tamp down, leaving half-inch headspace. Clean rim and secure jar with lid and ring.
Bring a water-filled bath canning pot (which could be just a big pot) to a boil. Carefully add jars, making sure they are completely covered with water. Process pints for 20 minutes and quarts for 25 minutes. Remove pot from heat, and after five minutes remove jars from water, and let cool completely. You know the jars are shelf stable when you hear the "pop," which indicates the center of the lid is concave.
You can also keep your sauerkraut in a refrigerated, lidded jar for a couple of months.
Pork, sauerkraut and mashed potatoes was one of my favorite dinners growing up. It was my Aunt Gloria's specialty. To this day, when I smell this dish bubbling away in my own kitchen, I'm transported back to her dinner table, nestled near the wood stove, where I was served a plate of this ultimate comfort food.
One thing I love about this dish is, it's unassuming. When I serve a pork and sauerkraut dinner to guests, they look nervous. It's not particularly a stunning display of food design artistry. The pork and sauerkraut are tan, with pieces of tired apples here and there. And the potatoes, of course, are white. I remember my father-in-law looking upon the big platter of what appeared to be culinary mishap, declaring he would "just have a little bit." After a couple of bites, my normally very unexcitable father-in-law tented his eyebrows and said, "Hey, this is good!" He had seconds.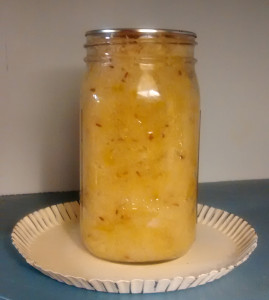 Aunt Gloria's Slow Cooker Pork and Sauerkraut
3-4 pound pork butt roast
4, 14-ounce cans of sauerkraut, preferably homemade
1 1/4 cups brown sugar (don't add less)
1 tablespoon caraway seed (unless it's already in your sauerkraut)
1 red delicious apple, sliced in large chunks
Place roast in slow cooker, and sprinkle with salt and pepper. In a colander, drain sauerkraut but do not rinse. Add brown sugar, caraway seed and apple. Stir. Place mixture over roast and cook for about eight hours or until roast is falling apart. Serve with mashed potatoes.
Laura Woolfrey-Macklem is a former North County resident who produces the Preserved Home blog. Visit www.preservedhome.com. Send questions and comments to [email protected].