Preserved Home: A pitch
for using pits and scraps
Canning season is in full-swing, and I'm spending most days in the kitchen processing hundreds of pounds of produce. I have more work this year than others, because I discovered a way to get more out of my produce. Every year, I feel pangs of guilt for throwing out peels and fruit stones full of flavor, but this year I'm saving the scraps.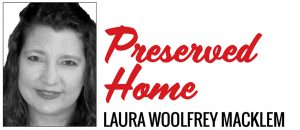 My experiments started with peaches. I canned peach pie filling, peaches in light syrup and peach jam, leaving a rather large mound of peach pits and peels. And because these weren't freestone peaches, there were pieces of fruit still clinging to the pits. The frugal side of me kept nagging, so I did some research and learned you can make peach juice from the scraps — a rich, peach colored juice. You could drink this juice. Instead, I used it as a base for peach simple syrup, peach pancake syrup and peach jelly.
Why stop at peaches? After pitting 24 pounds of cherries (which took hours) there's no way I could discard those morsels of flavor clinging to the pits. I used the same technique and made cherry jelly.
What else could I make from fruit scraps? Now it's an obsession. Vinegar. Remembering I previously made fruit infused vinegars, I did more digging and learned homemade vinegar could be made from fruit scraps as well.
Then came in strawberries.
I typically hull my strawberries, but 15 pounds into it, my thumb started hurting because of the serrated spoon, so I resorted to cutting off the tops. The downside to cutting instead of hulling is losing part of the strawberry. Determined to find purpose for the strawberry tops, I embarked on my first experiment at making fermented vinegar.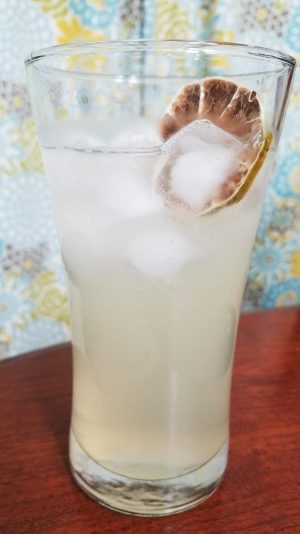 I filled two half-gallon jars of strawberry tops and topped off with filtered water until full. I added 1/4 cup white sugar to each jar and stirred, and covered with a coffee filter. (Do not seal fermenting vinegar.) Five days later, I added another 1/4 cup sugar to each jar. I then stirred every day, for six weeks.
At the end, I had a rosy strawberry vinegar for salads and in water for a probiotic drink for only pennies. Now every time I looked at fruit scraps, I knew I would see promise.
My latest venture involved cucumbers. My kids love a minty cucumber drink, and faced with an 80 pound box of cucumbers, I knew how I was getting the juice for them — from the scraps. I collected the ends and seeds in a bowl, pureed them in a food processor, and strained them in a cheesecloth-lined strainer. Typically to make cucumber juice, you puree the cucumber and strain, but this time I used the scraps with the same result.
Grocery prices are climbing, so turn scraps into savings while adding interesting and healthy items to your pantry.
Stone Fruit Scrap Syrup
You can use peaches, cherries, plums or any stone fruit in this recipe. I use this syrup on pancakes, in iced tea, in plain yogurt and over ice cream. Yields about five 8-ounce jars.
Take fruit scraps such as peach peels and pits, and place in a pot. Add water, just enough to almost cover. If you add too much water, it will weaken the flavor. Bring to a boil, then lower heat and simmer about 30 minutes, or until starting to reduce. Now, drain the fruit in a fine mesh strainer lined with cheesecloth and let sit for two hours, or until all the juice has dripped from  fruit scraps. Pour juice into a measuring bowl. You will need 3 cups for the syrup.
Add the 3 cups of juice and 3 cups of sugar in a large pot. Dissolve the sugar in the juice on medium heat, then bring to a boil. Lower to a simmer about 30 minutes or until mixture thickens like syrup. To test, take a small sample, and let cool to check for thickness and taste. After the syrup is done, pour into half pint or pint canning jars, leaving 1/4 inch space. Secure lids and rings, and place in pot making sure tops of jars are covered by at least an inch. Bring to a boil, and process jars for 15 minutes. Take out of canner and allow to cool 24 hours. The syrup is now shelf stable.
---
For more recipes, tips and details, visit Laura Woolfrey Macklem's Preserved Home blog at www.preservedhome.com.
Columns represent the views of the individual writer and do not necessarily reflect those of the North Coast Current's ownership or management.
encinitas current, cardiff current