Preserved Home: Cut the can and promote real pumpkin pie
Pumpkin pie is a must-have for Americans around the holidays. In fact, an estimated 50 million pumpkin pies are consumed every year at Thanksgiving. But what if I told you that's not real pumpkin pie you're eating?
Unless you are roasting your own pumpkin, chances are it's a Dickenson squash pie — the winter squash Libby's uses to market its product as "pumpkin" on the label. In fact, Libby's developed this variety to market as pumpkin, yet still it advertises it as "100 percent pure pumpkin." I personally think everyone should feel completely tricked by this revelation.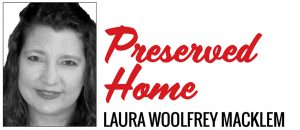 Libby's even boldly proclaims on its website, "We consistently produce the largest, juiciest pumpkins perfect for pumpkin pie or wherever your tastes take you." What they really produce is a tall, tan winter squash, which is clearly tasty, but it's not pumpkin. And how can they get away with it, you might ask?
The Food and Drug Administration stated, "Since 1938, we have consistently advised canners that we would not initiate regulatory action solely because of their using the designation 'pumpkin' or 'canned pumpkin' on labels for articles prepared from golden-fleshed, sweet squash, or mixtures of such squash with field pumpkins. In the absence of any evidence that this designation misleads or deceives consumers we see no reason to change this policy."
I'm unsure why the FDA doesn't think it's misleading to call something pumpkin when it's not, but if you stick with Libby's, you can go back to pretending now your pie is made from real pumpkin and enjoy your dessert. Or, you can roast your own authentic pumpkin and bake the real deal.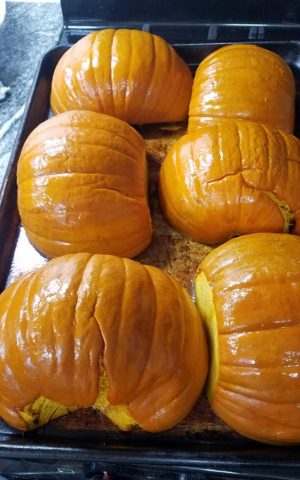 Don't be intimidated by roasting pumpkin; it's a simple process. Wash your pumpkin well, and dry. (Libby's is getting complaints of gritty puree — you want a well cleaned pumpkin before slicing.) Pre-heat oven to 375 degrees. Cut pumpkin in half, or in quarters if the pumpkin is large. Scrape out seeds and stringy insides. Place pumpkin flesh side down on a cookie sheet and add a cup of water to the cookie sheet. Baking time will depend on size of pumpkin pieces.
The pumpkin is done when a fork easily penetrates the flesh. After the pumpkin is done, scoop the pumpkin away from skin and place in a fine mesh colander in order for the water to drain. (Fresh pumpkin is very watery and must be strained.)
Learning to roast your own pumpkins not only ensures your pumpkin-themed dishes, savory and sweet, are made with actual pumpkin, but you can also banish fears of another canned pumpkin shortage.
Remember the great pumpkin shortage of 2015? Foodies are still traumatized by it, now wringing their hands starting in late summer, wondering if there will be another canned pumpkin shortage. The solution is to buy heirloom or sugar pumpkins, and make your own puree.
If you want your Thanksgiving dessert offering to be extra special, consider this pumpkin pie recipe, which is simple to assemble, and can be made well in advance. In fact, I often bake my pumpkin pie and freeze for Thanksgiving and Christmas. Double this recipe and bake two pies — one for now and one for later — and you will be thankful.
Perfect Pumpkin Pie
3/4 cup of sugar
1 1/2 cups pumpkin puree
1 tablespoon all-purpose flour
1/2 teaspoon salt
1/2 teaspoon ground cinnamon
1/2 teaspoon ground ginger
1/4 teaspoon ground nutmeg
2 tablespoons light corn syrup
1 slightly beaten egg
1/2 teaspoon vanilla
1 1/2 cups evaporated milk
1 (9 inch) unbaked pie crust
Preheat oven to 450 degrees.
Add the sugar gradually to the pumpkin puree. Beat well and stir in the flour, salt and spices.
Stir in the corn syrup and beat well. Stir in the slightly beaten egg, then slowly add the evaporated milk, mixing until well blended. Pour the batter into the unbaked pie shell. Bake at 450 degrees for 10 minutes then reduce the oven temperature to 325, and continue baking pie for an additional hour or until a knife inserted into the mixture comes out clean.
---
For more recipes, tips and details, visit Laura Woolfrey Macklem's Preserved Home blog at www.preservedhome.com.
Columns represent the views of the individual writer and do not necessarily reflect those of the North Coast Current's ownership or management.
encinitas current, cardiff current