Preserved Home: Prepare your own oats for a healthy new year trend
In the world of food and nutrition writing, there are always theories, trends and celebrities influencing people's diets and grocery habits. Take for instance in the '90s — "Stop the Insanity" Susan Powter insisted fat made you fat, but now with the Carnivore diet, cutting carbs and eating meat, is the way to go. How about eggs are bad for you, and fake butter is better than the real stuff?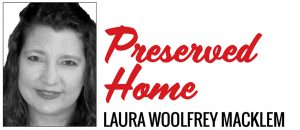 Even the meal of breakfast has been challenged as nonessential. Is it the most important meal of the day? Maybe someone who doesn't feel like making their family breakfast came up with that theory, I don't know. Breakfast can be quick, filling, and very kid-friendly with a big batch of tasty overnight oats.
When I first came across this no-cook method of overnight oats, I was exceptionally excited since I buy oats in 50-pound bags. No, I don't own a horse (just teens), but I do make oat flour bread, granola bars, instant oatmeal and other recipes using old-fashioned oats, or rolled oats as they are often called.
Oats can also be used in beauty treatments such as face masks or for soap-making as they are used to remedy itchy skin.
According to the website Healthline, "Oats are rich in carbs and fiber, but also higher in protein and fat than most other grains. They are very high in vitamins and minerals … lower the risk of heart disease by reducing both total and LDL cholesterol and protecting LDL cholesterol from oxidation."
In addition they lower blood sugar and are gluten-free. No wonder oats are classified as a superfood. And unlike many other healthy staples, oats are economical.
I've experimented with different overnight-oats combinations, but our favorite is chocolate coconut. This mixture is full of healthy ingredients, including chia, yogurt and honey, and is a cinch to throw together. Another ingredient, whole coconut milk, transforms this humble grain into a wholesome breakfast treat. A lower-fat coconut milk will not achieve the same results.
Besides overnight oats, I also make instant oatmeal for quick breakfasts. I take my rolled oats and pulse them in my food processor a few times and transform them into quick oats. Add dehydrated or freeze-dried fruits to customize. One of my daughters likes coconut and pineapple instant oatmeal, and the other prefers strawberries and peaches. I make a plain batch of instant oatmeal so everyone can choose their own flavors.
When people think of oatmeal, they think of a drab breakfast offering. But with some creativity, oats can be an exciting addition to your mornings — a healthy new trend of your own.
Chocolate Coconut Overnight Oats
2/3 cups plain Greek yogurt
1 cup rolled oats
1 1/3 cups full-fat coconut milk
2 tablespoon chia seeds
1 teaspoon vanilla extract
Pinch of salt
1/3 cup of honey
1/4 cup unsweetened cocoa powder
1/2 cup unsweetened flaked coconut
Mix all ingredients together, let sit in the fridge overnight or at least six hours.
Homemade Instant Oatmeal
4 cups old-fashioned oats, quickly pulsed in food processor
1/4 cup ground flax seed meal
2 teaspoons cinnamon
3/4 teaspoon salt
1/2 cup brown sugar, or to taste
1 cup powdered milk (the best price I've found is at Restaurant Depot, then Aldi)
Dried fruit of your choice
Mix all the ingredients in a storage container, except fruit, and store. When ready to use, add 1/3 cup of oatmeal mixture to a bowl, and also fruit of choice. Add 1/2 cup of water to bowl and mix. Microwave for 1 minute, stir and see if you need more liquid. If so, add more and microwave for another 30 seconds.
---
For more recipes, tips and details, visit Laura Woolfrey Macklem's Preserved Home blog at www.preservedhome.com.
Columns represent the views of the individual writer and do not necessarily reflect those of the North Coast Current's ownership or management.
encinitas current, cardiff current