Preserved Home: Quiche is a dish for everyone, and everything
I remember in the early '80s seeing bumper stickers around Escondido which said, "Real Men Eat Quiche." I was young, and had no idea the saying was referring to a book's theme of debunking manly stereotypes. I wondered, why were men everywhere snubbing quiche? This egg custard classic might conjure up thoughts of froo-froo French cooking for light appetites, but it's actually a humble dish and a perfect receptacle for hearty leftovers.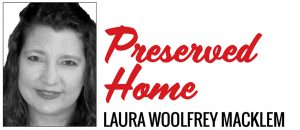 Although the French are known for quiche, the dish's origins are actually German.
According to FoodReference.com, "Although quiche is now a classic dish of French cuisine, quiche actually originated in Germany, in the medieval kingdom of Lothringen, under German rule, and which the French later renamed Lorraine. The word 'quiche' is from the German 'Kuchen', meaning cake."
Instead of a pie crust, the original quiche was made from bread dough. My versions, though, have no crust at all.
Crustless quiche makes for an easy weeknight dinner. It's also a crafty way to use odds-and-ends from your refrigerator. Leftover ham, roasted vegetables, sausage, spinach, various cheeses and herbs, or even diced potatoes could bulk up your egg custard base.
One of my favorites is bacon and broccoli, but tonight we're having bacon and asparagus because that's what's in the fridge. If you have single-sized tart pans, you can also have make-your-own quiche night, and set out bowls with filling choices. Make-your-own quiche would be perfect for a Mother's Day brunch, alongside a green salad, fruit salad, rolls, and a fun dessert.
Since the French can't claim rights to the original claim to quiche, there's no reason Italy can't join in on the fun.
A quiche made with summer's abundant zucchini, speckled with fragrant basil with cubes of creamy provolone is a delightful meal. Serve with a warm, crusty baguette and a tomato basil salad. This dish is also kid-friendly and can be prepared ahead of time before baking, making a Meatless Monday easy. You can certainly substitute yellow squash for zucchini if desired.
Crustless quiche is fit for brunch, special occasions, and certainly for men as asserted on the famous 1980s bumper sticker — well, real men at least.
Bacon and Broccoli Quiche
This is a base recipe. Substitute the fillings to what you like.
2 cups of cooked or thawed broccoli (or enough to make an even layer at the bottom of a pie pan)
6 pieces of cooked bacon
4 ounces of grated, sharp cheddar cheese
1 tablespoon melted butter
4 beaten eggs
1/2 cup of white flour
1 1/2 cups whole milk
Salt is optional, depending on the salt content of your added ingredients.
Preheat oven to 350 degrees. Spray a 9-inch pie plate with cooking spray. Layer broccoli, bacon and cheese in the pie plate.
Mix melted butter, milk, beaten eggs and flour in a food processor or a blender. Don't over mix, just blend until flour is evenly distributed in mixture.
Pour milk mixture over the filling ingredients. Bake for 30-40 minutes, or until set in the middle. Let cool about 5-7 minutes before cutting.
Zucchini Quiche
5 1/2 cups shredded zucchini
2 tbsp. fresh, minced basil
1 small onion, minced
2 cups white flour
1 3/4 cups shredded or diced provolone cheese
6 eggs, beaten
1/2 cup vegetable oil
1/2 cup Parmesan cheese
2 tsp baking powder
2 tsp salt
Cracked black pepper
Preheat oven to 350 degrees. Combine all ingredients, leaving out 2 tbsp. of Parmesan. Scoop mixture into a greased casserole dish and top with the remaining Parmesan. Bake for 45 minutes or until brown on top, and let cool for 10 minutes before serving.
---
For more recipes, tips and details, visit Laura Woolfrey Macklem's Preserved Home blog at www.preservedhome.com.
Columns represent the views of the individual writer and do not necessarily reflect those of the North Coast Current's ownership or management.
encinitas current, cardiff current