Preserved Home: Great dough key to pizza done right
For years, I've been in search of the perfect pizza crust. My goal was a chewy, sturdy crust that could withstand a mountain of toppings and a thick pool of sauce. The trick is a crust with an easy bite but strong enough to meet my family's appetite for ample toppings. This crust can, of course, be baked or grilled, and even turned into crusty rolls, stromboli, calzones or French bread. It's a versatile, trusty workhorse to dazzle your family and friends.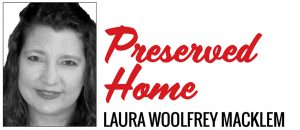 Pizza has a reputation for being junk food — a default on busy nights. And while restaurant pizza is delicious and quick, it can be laden with preservatives and calories. Done right, pizza is the perfect food — you have dairy, vegetables, carbs and protein on a well-balanced pizza. A healthy meal, really, when you control the ingredients.
My husband issued a "pizza challenge" and wanted pizza every Friday. To avoid exhaustion of the same pizza, I got creative and made themed pizzas each time. Some of my creations included barbecue chicken, Greek, meat lovers, margarita, cheeseburger and rolled pizzas.
Pizza is not only a nutritious offering, the ingredients can be prepped in advance for a quick lunch or dinner option. I double my pizza dough each time and stash in my freezer for busy days. I also make my pizza sauce in bulk and can, which saves me money and time. Brown sausage and ground beef, and chop vegetable toppings, flash freeze for toppings. Leftover veggies can be cut and routinely placed in pizza topping freezer bags. Make your pizza crust more interesting by adding garlic, herbs, or even bits of sun-dried tomatoes to the dough.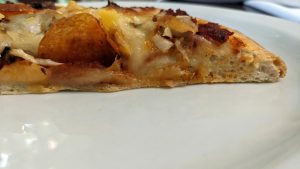 No matter how you slice it, frozen pizza is sometimes all you can muster, but you can also make those in advance. Roll out your dough, freeze, then add sauce and toppings for homemade frozen pizzas for another day. (If you don't freeze the dough before topping for frozen pizza, your crust might get soggy.) Make sure to put a silicone baking mat or parchment paper under the dough before freezing. Mini frozen pizzas would be a fun lunch or snack as well.
I've tried all bread flour with this crust, but when rolling out it bounces back and is difficult to work with. All purpose flour doesn't give the chew I wanted, so I combined both. Bread flour has a higher protein than all purpose, which creates more gluten. If you don't have bread flour, for every cup of flour subtract 1 ½ teaspoons of flour and add the same amount back in of vital wheat gluten.
This recipe calls for instant yeast, which is different from active yeast.
"Dry yeast comes in two forms: active and instant," according to the website, www.seriouseats.com. 'Active' describes any dry yeast that needs to be <activated> prior to use, while 'instant dry yeast' describes any dry yeast that's ready for use the <instant> you open the package. Instant yeast is an ingredient of its own, as well as a category that can include specialized products, like RapidRise or bread machine yeast."
While it's true, understanding the science and having the right ingredients makes baking better, it's not complicated. So on a busy night when your plate is full, top it with homemade pizza quickly, any night of the week.
Perfect Pizza Crust
Yield: 2 crusts
1 tbsp instant dry yeast
2 cups Warm Water
1 tbsp sugar
2 ½ cups all purpose flour (and extra as needed)
2 ½ cups bread flour
2 tsp salt
3 tbsp olive oil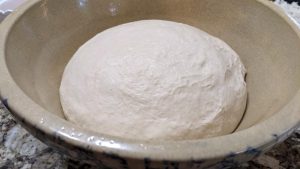 Mix all ingredients in a stand mixer fitted with a dough hook and start mixing. (If you have a Kitchen Aid, that company doesn't suggest anything higher than a level 2.) The dough should come off the bowl's sides. When the dough gets to the point where a finger poke in the dough doesn't result in stickiness, the kneading can begin. If your dough is still sticky, add a little bit of flour at a time, no more than a tablespoon each time. Knead for five minutes in your mixer. Remove dough from bowl and knead by hand about 20 times. Shape in a ball.
Put a couple teaspoons of oil in a bowl and place dough in the bowl. Then flip the dough over so both sides have a light covering of oil. Cover and let rise until doubled, 30 to 45 minutes. When done, take your fist and gently punch the dough down to get air bubbles out. Roll out to desired thickness. Bake at 425 after toppings are placed on the pizza. Makes two pizzas, or any other creation you have in mind for this dough.
---
For more recipes, tips and details, visit Laura Woolfrey Macklem's Preserved Home blog at www.preservedhome.com.
Columns represent the views of the individual writer and do not necessarily reflect those of the North Coast Current's ownership or management.
encinitas current, cardiff current