Preserved Home: Smoked beans
are a scrumptious summer staple
Baked beans are a summer staple for cookout fare, but there's one baked bean recipe that won't be pushed to the side. Smoked baked beans with jalapeño and bacon are sweet, spicy, smokey, and will dominate as the favorite at any gathering.
Traditional baked beans are as American as apple pie, and Native Americans were cooking them up before the Europeans arrived.
According to the website lovefood.com, "It's tricky to pinpoint the exact genesis of the baked bean, though the most widely-held theory is that the modern canned variety has its origins in Native American cuisine, specifically in dishes cooked by indigenous peoples in the northeast and belonging to tribes including Iroquois, Narragansett and Penobscot. The beans were baked in earthenware pots with maple syrup and, sometimes, venison meat and even bear fat — creating a dish prized for its high protein, calorie and fat content."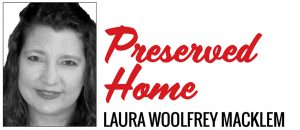 Today's popular version is influenced by the Native Americans, changing out some ingredients with similar purposes, and adding others such as mustard. To cook, Native Americans would dig a hole and bake their beans with coals in clay pots covered in deer skin. Still today, cooks make these "bean-hole baked beans" in the same way, I'm guessing without the deer skin.
In the 1964 edition of "Joy of Cooking," there's a recipe for "Campfire Beans," instructing to cook the beans with coals in a dirt hole. Most of us now bake our beans in the oven, or in this case the smoker.
Because this recipe employs canned pork and beans, this skillet side is quick to put together. I can pork and beans, but store-bought will work as well.
My pork and beans have molasses, which helps baked beans to "retain their shape for a longer period of time. The cell walls in beans prefer the sugar in molasses over other sugars when it comes to keeping their cell walls more stable," according to "The Encyclopedia of Kitchen & Cooking Secrets."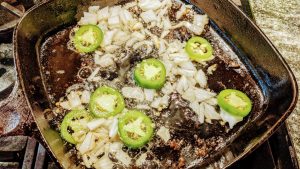 I could be missing a brand, but no industrial canned pork and beans I've found include molasses.
When I got a smoker for Christmas, I had no idea the versatility it would offer. Smokers aren't just for meat, and these beans are one example. While smoke time is just two hours, still keeping charge of the smoker is a time commitment. Make a double or even triple batch and freeze. Put some salt in an aluminum pan for smoked salt, or season raw almonds and smoke, making the most out of your time if you aren't already smoking meat.
You can adjust this recipe to suit your needs. One half jalapeño doesn't impart much spice, which suits kids better. I prefer a whole jalapeño to prevent the spice from being weighed down by the sweetness. Kick up the smoke, heat or sweet any way you want for the best beans you'll ever eat.
Smoked Jalapeño and Bacon Beans
3 pieces of bacon
1 jalapeño, sliced
½ cup chopped onion
32 ounces pork and beans (not baked beans)
1 tbsp Worcestershire sauce
2 tbsp grainy Dijon mustard
½ cup brown sugar
¼ cup of barbecue sauce
Cook bacon in a cast iron skillet halfway. Remove from pan. Add sliced jalapeño and onion to skillet and cook in bacon fat. Combine pork and beans through barbecue sauce, and add onion and jalapeño. Pour mixture back in cast iron skillet and top with bacon, which will finish cooking in the smoker. Smoke at 225 degrees for two hours.
---
For more recipes, tips and details, visit Laura Woolfrey Macklem's Preserved Home blog at www.preservedhome.com.
Columns represent the views of the individual writer and do not necessarily reflect those of the North Coast Current's ownership or management.