Preserved Home: Slow cooker
enchilada soup is a tasty fall flavor
With fall and school starting, soup is on the mind of home cooks, often looking to the slow cooker for quick, comforting meals. There's nothing like a bubbling pot of soup waiting for you after a busy day when fall hits. And even if it doesn't feel like fall outside for you, the vibe is everywhere, so why not join in?
Mine is a soup family, as evidenced by the 11 different types of home-canned soups on my shelf, including French onion, ham and bean, chicken, vegetable beef soup, tomato and two types of Mexican. When my daughter was 4, she even ordered broccoli and cheese soup every time at a favorite eatery — forget the chicken nuggets.
Besides soups, tucked in my pantry are also home canned ingredients to make one of our favorites — chicken enchilada soup. The common pantry ingredients, be it home-canned or store-bought, make quick work of assembling before heading out the door. I did make my own enchilada sauce for this recipe in advance, however.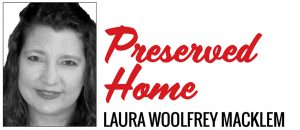 I have always been on the quest to match Norte's (formally Fidel's Norte in Carlsbad) poblano sauce. Growing up, my family would go there and order bowls of it for dipping our chips while we awaited dinner. And while my enchilada sauce doesn't rival Norte's, it's close. My sauce doesn't contain poblanos, but has that rich, almost juicy background flavor. I might try freeze-drying roasted poblanos and creating a powder to use instead of the traditional chili powder my current recipe requires. If you don't have time to make enchilada sauce, buy a good quality brand — or better yet, stop by Norte and buy a pint.
Toppings take this soup to divinity status. Creamy avocado sprinkled with lime juice and salt, crisp tortilla strips, spicy sliced green onions and fragrant cilantro make this soup a fiesta in a bowl. Prepare your toppings in advance, then adding the cream cheese to the soup is the lone step between you and dinner. When preparing your avocado, make sure you sprinkle with lime juice to prevent browning.
I have teenagers and can't depend on their regular attendance at the dinner table anymore because of friends and activities. Slow cooker meals allow me to make hot, self-serve dinners at the ready. From soups to casseroles and even desserts, slow cookers make for fast meals for unpredictable and busy schedules.
Slow Cooker Enchilada Soup
1 1/2 cups of chicken stock
1 cup of enchilada sauce
1 1/2 cups black beans
1 pound of cooked, shredded chicken — canned or rotisserie
1 can of Rotel, or can of diced tomatoes plus 2 tbsp. diced jalapeño
3/4 cup diced white onion
1 cup of corn
1 8 oz. block of cream cheese
Topping suggestions — avocados, green onions, tortilla strips, sliced jalapeños, shredded cheese, cilantro and lime.
Add all ingredients, except for cream cheese, to a slow cooker and cook for 6 hours on low. Then, cut cream cheese into blocks and add to soup. Stir, and allow cream cheese to melt into soup. Allow soup to come back up to temperature, and taste to see if seasonings need to be adjusted. Top with desired extras.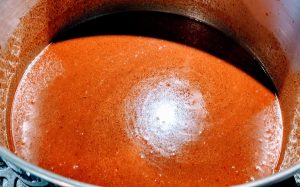 Enchilada Sauce
3 tbsp. of oil (I use avocado oil)
3 tbsp. flour
1/4 cup chili powder
1 tbsp. cumin
3/4 tsp. Mexican oregano
1 clove minced garlic
2 cups beef broth
2 1/2 cups tomato sauce
Salt and pepper to taste
Warm oil in a saucepan and stir in flour, chili powder, garlic, cumin and oregano. Once the mixture gets bubbly and starts to toast, add tomato sauce and broth. Bring to a simmer. Taste, and add desired amount of salt and pepper. Cook on a low simmer for 10 minutes. If you want to make this into a dip, add Mexican cheese blend and melt.
---
For more recipes, tips and details, visit Laura Woolfrey Macklem's Preserved Home blog at www.preservedhome.com.
Columns represent the views of the individual writer and do not necessarily reflect those of the North Coast Current's ownership or management.
encinitas current, cardiff current