Preserved Home: Season offers lots
of reasons to fall for butternut squash
Winter squash is nothing short of whimsical.
There's spaghetti squash, which magically tears apart into noodle-like strands, acorn squash with scalloped ridges, variegated, sometimes spotty carnival squash, and pale green nubby hubbard squash, which looks like a giant witches wart. Pumpkins have the most interesting names such as Ghost, Super Moon, Baby Bear, and One Too Many Pumpkins.
Despite all of the theater behind these gnarly, fantastical gifts of fall harvest, one outshines them in flavor, and that's butternut squash.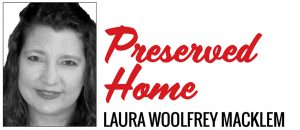 I'll eat butternut squash any way I can, including on a pesto pizza, in Indian curry, soup, pie, bread, roasted, and even on a salad. When roasted, this versatile squash (technically a fruit) caramelizes, resulting in a rich, sweet side dish or ingredient. I've tried a cornucopia of winter squash, and this one takes the cake, and yes, this is great in cake too.
Every fall, I buy 40 pounds of butternut squash to can and freeze dry. I need access to it year-around. I usually buy my squash in October and use it fresh until about March before I start processing.
For the first time, I "zoodled" butternut squash into corkscrew shapes. Besides being fun to make, eat and look at, roasted zoodled butternut squash resembles the flavor of shoestring sweet potatoes. You can buy the squash pre-zoodled at Trader Joe's if you don't have zoodle appliance. While the taste and texture are addicting, in the roasting process it's hard to keep them in long shapes, but the taste experience is the same.
My favorite technique to roast butternut squash is to cut each end off, cut down from top to bottom, de-seed and place cut-side down on a baking sheet, lined with tin foil sprayed with cooking oil. I roast at 400 degrees until the skin starts to collapse and turns brown. Roasting time depends on the squash's size. To preserve, you can freeze, dehydrate, can or freeze dry. To save shelf space, I turn my puree into powder to reconstitute into puree.
According to the website Specialty Produce, Charles Leggett of Massachusetts developed butternut squash, calling the flavor "smooth as butter and sweet as a nut." Rich in beta-carotene, it provides vitamins A, C and E, manganese, potassium, iron, soluble fiber and magnesium. The seeds can be roasted to eat as well, which are a healthy snack and crunchy salad condiment in a fall salad.
I created a salad recipe with ingredients that both compliment and contrast. Slightly bitter mixed greens are the perfect canvass for sweet, roasted butternut zoodles, salty bacon, meaty pumpkin seeds and pungent blue cheese entrenched in a tangy apple cider vinaigrette.
Other winter squash may be more showy on the outside with bright colors, stripes and knobby features, and they might have eccentric names. Butternut squash might be tan and plain on the outside, a real ho-hum in comparison. But underneath is a brilliant orange flesh surpassing the flavor of all others. Roasted, zoodled or steamed, cook with it and you will fall for butternut squash.
Mixed Greens with Butternut, Bacon and Blue Cheese
3/4 pound butternut squash, cut into zoodle shapes
2 tsp olive oil
6 cups mixed greens
1/4 cup roasted butternut or pumpkin seeds
5 slices of cooked bacon, crumbled
Blue cheese vinaigrette
Preheat oven to 400 degrees. Line baking sheet with tin foil and coat with cooking spray. Cut butternut squash into zoodles. Lightly coat zoodles with olive oil and salt to taste. Roast until squash starts to brown. (Alternatively, you could also roast small chunks of squash.) Combine mixed greens, seeds and bacon in a bowl and dress with vinaigrette, and toss with roasted squash.
Blue Cheese Vinaigrette Ingredients
3 cloves minced garlic
1/4 tsp dry mustard
2 tsp salt
1/2 tsp paprika
3/4 cup apple cider vinegar
1 cup olive or avocado oil
4 tbsp blue cheese crumbles
Combine all ingredients and shake well.

---
For more recipes, tips and details, visit Laura Woolfrey Macklem's Preserved Home blog at www.preservedhome.com.
Columns represent the views of the individual writer and do not necessarily reflect those of the North Coast Current's ownership or management.
encinitas current, cardiff current