Preserved Home: Look forward to the holidays by planning ahead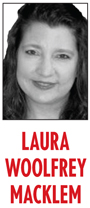 One of the biggest challenges for the holiday host is spending time with guests while still meeting all the expectations of a holiday meal. And certainly, if you have out-of-town company, you aren't just preparing one big meal, but several in between for your guests. The stress is enough to take the jingle out of your bells. But if you plan carefully, you can pull the holidays off with grace and ease.
I always host the holidays for both sides of our family, and they all live out of town. My challenge is always feeding a house-full three meals a day while still making a homemade holiday feast. I could rely on store-bought pies, cranberry sauce and the like, but what fun is that for a foodie?
Store-bought food just isn't as tasty, it's more expensive. But most importantly, homemade offerings are something my family considers special. Who doesn't think back to their mother's special recipes with so much fondness, not even an Iron Chef can compete?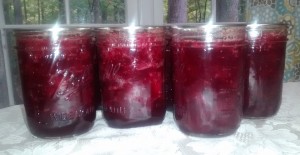 The food you make traditionally for holidays become sacred traditions, making all the work worthwhile. While I am happy to put in the effort, I wanted more time with the family, so I came up with a plan.
Reviewing my menu, I considered how to accomplish my lofty goals of creating the spread without the dread. Some things, such as oyster casserole, simply cannot be made in advance for the freeze. But the core of my meal can made and tucked away. I'd start with the obvious — cranberry sauce.
Canning your own cranberry sauce is something you can make a year in advance. After the holidays last year, I found cranberries on sale for 19 cents a bag, so I bought several and canned my own cranberry sauce. The day before the meal, I'll just place my jar in the refrigerator. Here's how I can my cranberry sauce:
Combine:
4 cups sugar
4 cups apple cider or apple juice
4 (12-ounce) package fresh cranberries
Bring ingredients to a boil over medium heat. Reduce heat and simmer until cranberries pop, about 10 minutes. Stir occasionally. To can, fill pints leaving 1/4 headspace.
Yes, I know, you can buy it, and I do love the canned stuff too … but nothing compares to the fresh taste of homemade cranberry sauce with whole berries. It's just superior. As a side bonus, it's a snap to make and easy to can.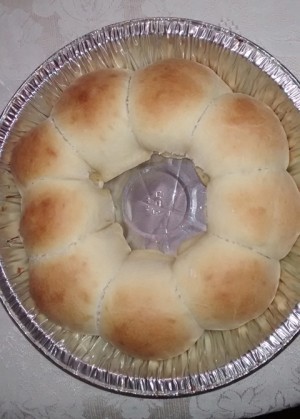 Mashed potatoes are always the last-minute pain because they get cold quickly. Now, I make my mashed potatoes and put them in a Food Saver bag, and vacuum seal. I do freeze my potatoes in the bag before sealing. For freezer space efficiency, I make the bag flat and place on a cookie sheet in the freezer. After frozen, I seal. Set in the fridge to thaw a couple days before the holiday. To reheat, put the Food Saver bag, which is BPA free, in boiling water until heated through. When the potatoes are hot, turn off the heat and leave the bag in the hot water until everyone is situated around the table. Then, I just put the hot potatoes into a serving bowl and throw the bag away. No peeling, no reheating, no mess.
Homemade pies are labor intensive, so assembling and freezing in advance is a big time saver. With pumpkin pie, make just a month in advance, but with fruit pies, make up to four months in advance. My trick is, freezing pie crust in the pan before filling. Freezing the shell first prevents a soggy crust. Fruit pies should be frozen unbaked. With custard pies, you bake, cool, freeze and wrap.
To bake a fruit pie, put it in the oven, frozen, and bake at 375 degrees. It usually takes my frozen pies about 30 more minutes to bake. Baking releases juices, so cool before slicing. If you overbaked your pumpkin pie and it cracked the top, I would not freeze, because it will make for a weepy pie. Some say custard pies don't freeze well, but my recipe always thaws perfectly.
Hot, homemade rolls nestled on the side of your stuffing and turkey are a special treat. But who has time to make homemade rolls in the midst of the holiday rush? You do. Freeze your rolls and bake them off before your meal. One of my favorite recipes is a sturdy, slightly sweet roll.
Slightly Sweet Dinner Rolls
5 1/2 cups all-purpose flour
4 1/4 tsp. of yeast (or two packs)
1/2 cup sugar
1 1/2 tsp salt
1 stick of butter at room temperature
1 1/2 cups of hot water
2 eggs, room temperature
Preheat oven to 375 degrees. Combine 2 cups of flour, yeast, sugar and salt in mixing bowl. Add butter and hot water, and beat until ingredients are incorporated. Add eggs and 1 cup of flour. Beat again until incorporated. Then, add 2 more cups of flour, and any more as needed. (I added 2 1/2, but you can always add more, so better to be conservative at first since everyone dips flour differently.) Mix until you have a nice, soft dough that pulls away from the sides of the bowl. Knead for 5 minutes.
Cover with plastic wrap, then a kitchen towel. Let rest 20 minutes. Cut dough into 2-inch pieces and roll into a ball. Place in a greased, round baking pan. The round balls of dough should touch each other, but don't put any in the middle of the pan.
Cover with plastic wrap. Place in refrigerator for 2 hours, or up to 24 hours. If freezing, either freeze in pan as directed, or flash freeze individually. If baking from refrigerator, take rolls from refrigerator and bake for 15-20 minutes, or until brown. If pulling from freezer, let thaw in refrigerator or on the counter. Once thawed, bake as directed.
Another make-ahead idea is to freeze your sweet potato casserole in a disposable baking pan, and use home-canned or store-bought canned vegetables as sides. Chop the onions and celery for stuffing a few days before and vacuum seal to prevent them from drying out. Review your menu and determine ways to simplify your work on the actual holiday. Every pre-prepared dish is like a gift of time to yourself, so work ahead and unwrap more time with your family these holidays.
Laura Woolfrey-Macklem is a former North County resident who produces the Preserved Home blog. Visit www.preservedhome.com. Send questions and comments to [email protected].