Preserved Home: Use your noggin and create your own eggnog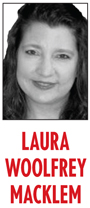 My eggnog drinking experience reminds me of the "Three Bears" story — one is too sweet, one is too rich, and the other one is devoid of any warm notes of spice. Until making eggnog myself, I hadn't found one that was "just right."
The search for a seasonal jug of cheer was difficult, in part because of my requirements. I don't like anything too rich or sweet, but I still wanted the eggnog creamy. The eggs must be cooked, and though eggnog traditionally contains alcohol, I wanted to provide a family-friendly beverage. (individual glasses can easily be spiked.) Fresh, spicy flavors reminiscent of the season must be present, but perfectly balanced. Between purchasing containers of eggnog, and reading recipes, I just couldn't find what I was looking for, until I started fiddling with my own libation.
I started by looking at several different recipes for ideas. Some had heavy cream, so I decided to use half-and-half, keeping the velvety texture while reducing the weighty richness. I did, however, employ whole milk after experimenting with low-fat milk. For the flavors, I used whole cloves (to be spooned out after cooking), fresh nutmeg, cinnamon and vanilla. I like freshly grated nutmeg in the recipe. Eggnog, technically a stirred custard, is great as a coffee creamer and in French toast batter.
Making this eggnog has become a tradition in my home, as we listen to Christmas music and take turns stirring. We have eggnog on hand during the holidays for a jolly offering, because like the Three Bears, you never know who might show up unexpected.
Preserved Home's Eggnog
4 cups whole milk
7 whole cloves
1 teaspoon vanilla extract
1 ½ teaspoon ground cinnamon
12 egg yolks
1 1/2 cups sugar
3 1/2 cups half and half
1 1/2 teaspoons vanilla extract
1/2 teaspoon ground nutmeg, plus more for individual cups
Combine whole milk, cloves, 1 teaspoon vanilla and cinnamon in a pot, and warm on medium heat, slowly bringing milk mixture to a boil.
In a large mixing bowl, combine egg yolks and sugar, and beat until combined. Gradually whisk hot milk mixture slowly into eggs. (Don't pour the eggs into milk mixture, because you don't want the heat from the pot to scramble your eggs.) Transfer mixture into saucepan. Cook over medium heat, stirring for about 5 minutes, or until thick. This will become thick quickly, so don't leave your station and don't allow mixture to boil. Let the eggnog cool at room temperature. Stir in half-and-half, remaining vanilla and nutmeg. Refrigerate overnight.
Laura Woolfrey-Macklem is a former North County resident who produces the Preserved Home blog. Visit www.preservedhome.com. Send questions and comments to [email protected].