Preserved Home: In a pickle over cucumbers? Try these recipes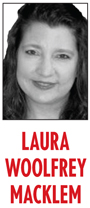 It's a canning mother's lament — finding the perfect pickle kids will like. In the past, they have been too sour, too sweet, too soft or too spicy, according to my children.
Just giving them the first bite of my pickle experiment is like watching a stressful sporting event. Will they pucker? Will they run for the faucet because of spice? And could this be the one ingestible item they refuse because it's too sweet? I watch their faces with hope, but also fear and latent anger at the possibility my precious pickle will be rejected. It's maddening to make seven quarts of pickles just to have them rejected. By this time, I've already spent a few hours and committed shelf space to these things, and I expect at least an open mind. If they are shunned, I'll have to push them off at potlucks, I suppose, and try again.
My friend Tabatha had the same struggle because those darn grocery store pickles set the bar so high. She finally found a great base recipe, which I amended to my tastes, and changed the canning technique. The result is the perfect pickle.
When making pickles, there are a few things to consider. First, the type of cucumber is crucial. While school of thought is the small pickling cukes are the only way to go, I recently bought a box of long cucumbers that resembled the cross between a pickling and English cucumber. I bought a 30 pound box of these cucumbers at the farmer's market, and the vendor couldn't tell me the type. I decided I'd take a $5 gamble, since one jar of pickles in the grocery store costs the same, and that's a lot of cukes for experimentation.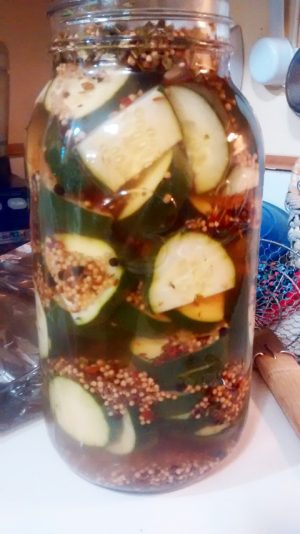 Luckily, these pickles stayed very crisp, but when choosing a cucumber for pickling, make sure they are crisp and not seedy. Cucumbers with a softer, watery middle make for a soggy pickle. And it's not just the soggy texture that is unsavory, but it soaks up so much of the brine, the taste is just too strong. We have resorted to dabbing the pickles with paper towels when dealing with soggy pickles, which obviously is not ideal. If you get the tiny cucumbers, can those whole, which also preserves the texture.
Next, use some kind of crisping agent. Some old-timey recipes call for oak or grape leaves for making a crisp pickle, but I just stick with Ball's Pickle Crisp. Don't take any chances. Also, when you see a canning recipe calling for "canning salt," it's because this very fine salt dissolves more evenly than other salts.
Canning technique with pickles is everything. At the National Center for Food Preservation, I learned about a canning technique called low-temperature pasteurization. Instead of canning your pickles in boiling water, which makes them softer, this method instructs to hold the water temperature between 180 and 185 degrees, for twice the time quarts are usually canned. For quarts, it's a 30 minute commitment of checking the water to ensure it maintains temperature. I use a long candy thermometer. If you try low-temperature pasteurization, know that the jars will take longer to seal — possibly a few hours. The first time I tried this method, I was nervous they weren't going to seal, but they eventually did. Any jars that do not seal should be stored in the refrigerator.
Besides canning pickles, you can also make countertop and refrigerator pickles. The countertop pickles spend three to four days without refrigeration, before popping them in the fridge. I make them kosher dill style. My favorite refrigerator pickle recipe is from Ball, but I changed the recipe up. This year, I canned 19 quarts of pickles, and 1½ gallons of refrigerator pickles. During cucumber season, I'll just keep making refrigerator pickles and save my canned pickles for colder months. These are so good, I might need to make another canner full before fall hits.
You can customize any of these pickles to suit your taste. If you like spice, add crushed hot pepper to the jars for a kick. Also, the kids won't notice the dehydrated onion, but it adds something special to the recipe. Here are three delicious pickle recipes that are game changers for picky palates.
Perfect Pickles
Yields 6-7 quarts
Pickling type cucumbers
8 ½ cups of water
2 ¼ cups white vinegar
½ cup pickling salt
Heat brine until salt is dissolved.
To quart jar add:
1 tsp. dehydrated onion
1 garlic clove
Fresh dill or dried dill to taste
2 tsp. pickling spice
Fill canner halfway, and heat until the temperature reaches between 120 and 140 degrees.
Add cucumbers tightly to jars and pour brine into jars, leaving ½ inch headspace. Seal with rings and new lids. Place jars in canner. Fill the canner with hot water until it reaches one inch over the jars. Heat to 180-185, and keep at this temperature for 30 minutes. The rule in canning is, if the temperature gets below the proper temperature at any point, you must start the entire process over again, so keep a close watch.
Refrigerator Pickles
Adapted from Ball's "Complete Book of Home Preserving"
Yields ½ gallon
16 ½ cups pickling cucumbers sliced about ½ inch thick
4 cups white vinegar
4 cups of water
6 tbsp. canning salt
½ cup white sugar
3 tbsp. pickling spice
3 tbsp. dill seed
3 tbsp. mustard seeds
2 tbsp. whole peppercorns
7 cloves of garlic
Prepare cucumbers, and place in a large bowl.
Bring to a boil the vinegar, water, pickling salt, sugar and pickling spice. Cook until sugar and salt are dissolved, about 5 minutes.
Pour heated mixture over cucumbers, cover, and cool for about 30 minutes. Meanwhile, add remaining ingredients to a half-gallon jar. After the 30 minutes, add cucumbers and brine to jar. When cool, store in the refrigerator.
Countertop Koshers
Yields ½ gallon
½ gallon of cucumbers
5 tbsp. dehydrated minced onion
3 minced garlic cloves
1 ½ tsp. mustard seeds
Fresh or dried dill to taste
6 cups water
1 cup cider vinegar
¼ cup canning salt
Slice cucumbers into spears, or another desired shape, and place in a half-gallon jar. Boil remaining ingredients until salt has been dissolved. Cool mixture. Pour cooled mixture over cucumbers and allow to sit on the countertop for 3 to 4 days, shaking occasionally. Store in the refrigerator for up to a year.
Laura Woolfrey Macklem is a former North County resident who produces the Preserved Home blog. Visit www.preservedhome.com. Send questions and comments to [email protected].