Preserved Home: Spice up pumpkin with this Alfredo recipe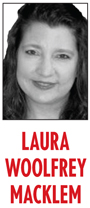 Grocery store displays are already full of pumpkin baking mixes, pumpkin honey buns, pumpkin spiced nuts, pumpkin bagels, pumpkin marshmallows and, yes, even pumpkin yogurt. And when Starbucks debuts its pumpkin spice flavors, my Facebook feed is clogged with pictures of coffee cups with steam emitting reported aromas of pumpkin spice.
Fall is my favorite season, so I jumped on the pumpkin wagon, too. But instead of buying something pumpkin flavored, I wanted to cook something with actual pumpkin — something fresh and creative. I canned 14 quarts last fall after a friend gifted me her heirloom pumpkins, which had served their ornamental purposes for the season. I like to rotate my home-canned food stock on a yearly basis, so I was in search of savory pumpkin recipes to broaden my use of this fall fruit. (Yes, botanically speaking, pumpkin is a fruit.)
Most known American recipes including pumpkin are sweet, but pumpkin is showcased in savory dishes in countries such as Italy and Mexico. I bought a book called "California Rancho Cooking," by Jacqueline Higuera McMahan. According to the author, rancho cooking combines Spanish, Mexican and California traditions.
"The rancheros used pumpkin as much for dessert as for a vegetable," McMahan said. "Sweet pumpkin empanadas often took the place of pumpkin pie at Thanksgiving and Christmas." Pumpkin is sometimes used in mole sauce and in enchilada filling.
Pumpkin is also treasured in Italian cuisine and widely grown in Venice. It can be roasted, used as a pasta filling, and a pasta sauce. Williams-Sonoma sells jarred pumpkin Alfredo sauce, but it will cost you almost $14, a price which easily drives a frugal foodie like me to whip up my own.
I started researching pumpkin sauce recipes and found one which called for pumpkin spices in the sauce. I was uneasy with adding the spices, but then I remembered bolognese has allspice, so perhaps I would be pleasantly surprised. I wasn't, so I decided to concoct my own recipe for pasta with pumpkin Alfredo sauce.
The sausage in this recipe adds a nice depth of flavor to this otherwise mild dish. If you substitute milk or fat-free half-and-half, you can expect a thinner sauce. Home-canned pumpkin (used in this recipe testing) is a thinner consistency than store-bought, so you may need to thin out the sauce anyway, adding more stock, cream or even a little pasta water.
If you decide to can your own pumpkin or cook some up for immediate use, know what you're buying. Jack-o-Lantern pumpkins aren't particularly flavorful, but pie and heirloom pumpkins, such as Cinderella, are popular choices. This season, try cooking fresh pumpkin instead of settling for foods with just pumpkin pie spice flavors, especially if pumpkin pie spice is found in your pasta sauce.
Pasta with Pumpkin Alfredo Sauce
½ pound of ground sausage
3 cloves of garlic, minced
½ cup diced onion
2 cups pumpkin puree (not pumpkin pie filling)
¾ cup chicken broth
⅓ cup half-and-half
1 cup Parmesan cheese
Salt and pepper to taste
1 pound pasta noodles
Cook pasta noodles in salted water and do not rinse.
Brown sausage, breaking into crumbles. After sausage is fully cooked, remove from pan onto a plate lined with a paper towel. Leave sausage drippings in the pan, and add garlic and onion. Cook until soft. (Note: I use lean sausage, so there are very few drippings in my pan. You only want about a tablespoon of sausage drippings left in pan.)
Add pumpkin puree and chicken broth, and heat through. Add cream, cheese, salt and pepper. Cook until cheese is melted. Add pasta and sausage, and heat through.
Laura Woolfrey Macklem is a former North County resident who produces the Preserved Home blog. Visit www.preservedhome.com. Send questions and comments to [email protected].