Preserved Home: Soup up tomatoes and broccoli to win over doubters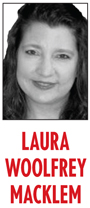 There are several foods I thought I hated growing up. Take fruit salad, for instance.
I always thought of fruit salad as fruit cocktail, swimming in syrup. Yuck. Then I grew up, and I realized fruit salad is two or more fresh fruits tossed together. Yum.
I also thought I hated spinach because my mom only made canned spinach, and it wasn't gussied up with bacon, garlic, onion or any other goodies. As a child, I never had fresh spinach or had spinach in something like a gratin, which I probably would have loved.
The third food I had always detested was tomato soup because, like everyone else, I just had Campbell's. It's not until a few months ago, when talking to my friend Ali, did I think about making it my own.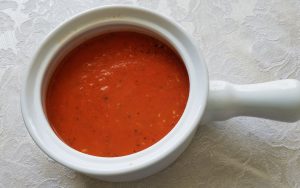 When Ali told me her homemade tomato soup was fantastic, it piqued my interest. I couldn't imagine a tomato soup being good because my only frame of reference was the canned stuff.
I like to challenge myself in taking a vegetable my family doesn't like and making it irresistible, so I decided to take on tomato soup. The result was a creamy, aromatic, tomatoey treat. Even my daughter, who has declared she hates tomatoes, quietly begged with her eyes as I proceeded to warm the last bit of leftovers for myself the next day.
My first attempt at tomato soup was with my home-canned tomatoes and tomato powder as a thickener. This made for an adequate base, but then I ran out of canned tomatoes, so I tried crushed.
Since I can get a 6 pound, 6 ounce can for $2.99 at Costco, I thought this would be a readily available, and frugal, substitute. As it turns out, the crushed was a superior choice. I played around with the other ingredients, and after having my family dip their designated spoons into the pot for a taste test, I found a recipe that's fresh and full of bright flavor.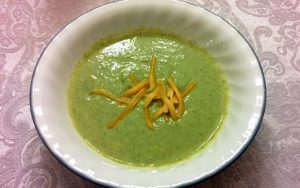 It shouldn't have taken me so long to warm up to tomato soup because another vegetable I grew up disliking was broccoli, and I adore broccoli soup. Pureed, kissed with milk and spiked with cheese, broccoli cheese soup is one of my kids' favorites. I usually serve with a fruit salad (the two or more kinds together sort) and a green salad.
As I watched my kids slurp down spoonfuls of pureed broccoli and eat the leafy greens, blueberries and oranges in one meal, I simply delighted in my quiet victory knowing they were ingesting a powerhouse meal. The next night, we had tater tots with dinner, but that glorious night, it was a superfoods supper.
There is no end to the creativity with pureed soups. Try butternut, cauliflower or even red bell pepper soup purees. They can be an elegant meal starter for company or something to dunk a sandwich in on a cold night.
This tomato soup is appealing to even picky eaters because it's reminiscent of a marinara sauce. Dunk a piece of crispy, buttery garlic bread in the bowl for a more decadent experience.
If your kids don't like broccoli, still don't overlook the broccoli cheese soup. My 9-year-old (who cares nothing about pleasing anyone at the dinner table) has loved this dish since she called it "bockey-soup."
Try pureed soups on your kids, even with vegetables you think they don't like. You don't want your child growing up writing a food column about how you didn't take every measure to convince her to like fruits and vegetables, do you? Sorry, mom.
Creamy tomato basil soup

3/4 cup chopped onion
3 large cloves chopped garlic
3 tbsp. olive oil
6 cups crushed tomatoes
1 cup chicken stock
2 tbsp. sugar
1 tbsp. butter
2 tbsp. of salt
1/3 cup Parmesan cheese
1 cup half and half
2 1/2 tsp. dried basil
Saute onion and garlic in olive oil until soft. Add tomatoes through salt, and bring to a low simmer and cook for about 10 minutes. Remove from heat and puree with a stick (immersion) blender. If you don't have a stick blender, puree in a blender by pulsing. I like to have texture, but if you want it totally smooth, that's fine too. Add half and half, Parmesan and basil. Stir and enjoy.
Broccoli cheese soup

4 tablespoons butter, divided
3/4 cup chopped onion
1 chopped small clove of garlic
1 chopped celery stalk
3 cups chicken broth
8 cups broccoli florets
3 tablespoons all-purpose flour
2 teaspoons salt
2 cups whole milk
2 cups of sharp or extra sharp cheddar cheese
Saute onions, garlic and celery in 1 tbsp. of butter until soft. Add broccoli and chicken broth, and simmer for about 10 minutes. When broccoli has softened, turn off heat and puree in the pot with your stick blender or puree in batches in a blender.
In a saucepan, melt 3 tablespoons of butter and add flour. Cook flour in butter, stirring constantly, until the flour gets a very light brown color. Add milk. Whisk and cook on medium until the mixture thickens, which should happen right before it starts to bubble. If you neglect to stir the milk, it will form a skin on the bottom of the pot and burn. After the mixture has thickened, remove from heat. Add thickened milk and broccoli mixture to the pot and add cheese. Warm through until cheese is melted, and add salt.
Laura Woolfrey Macklem is a former North County resident who produces the Preserved Home blog. Visit www.preservedhome.com. Send questions and comments to [email protected].