Gaspar seeks 2nd county board term; 2 Encinitas hopefuls in race
The seat has drawn a total of four candidates so far
Encinitas now has two residents vying for San Diego County supervisor in 2020.
San Diego County 3rd District Supervisor Kristin Gaspar announced May 3 that she will seek a second term on the board.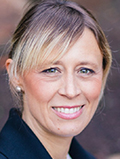 Gaspar, who issued the announcement on her campaign website, is a former mayor of Encinitas, where she lives with her husband, Paul Gaspar, and three children. Encinitas resident Terra Lawson-Remer is also an announced candidate for the 3rd District.
In addition to Lawson-Remer, who is an economist and attorney who previously served in the Obama Administration as senior adviser to the U.S. Department of the Treasury, three-term Escondido City Councilwoman Olga Diaz and Palomar Health Board director Jeff Griffith also seek the seat. Diaz announced her candidacy Feb. 20.
The district covers the communities of Encinitas, Solana Beach, Del Mar, Escondido and several San Diego city neighborhoods.
In her announcement, Gaspar touted her ties to North County, having grown up in the region. She also highlighted her first-term achievements, from working with local nonprofit groups on issues such as homelessness, food insecurity and human trafficking to voting against pay and pension increases for supervisors.
Gaspar has also been a critic of the San Diego Association of Governments' move to shift funds from freeway improvements to mass transit priorities.
"I'm very proud of the progress we've made in my first term," Gaspar said in the statement. "Using innovative approaches to government is important to me and serves as a catalyst for the private sector and non-profits to get more involved. We are changing lives by engaging the community, investing in prevention and working together toward solutions."
Though often criticized by opponents for her support of President Donald Trump, Gaspar noted in her announcement that she has opposed the Trump Administration's push to open the San Diego coastline to offshore oil drilling.
"I am excited to build on the progress we've made and look forward to exploring new opportunities to move the County forward," Gaspar said in her statement.
encinitas current