North County school districts adjust to coronavirus challenges
Due to the potential health hazard imposed by the COVID-19 coronavirus, K-12 school districts across San Diego County — including those in North County — have closed their campuses.
Closures began ahead of California Gov. Gavin Newsom's statewide stay-at-home order issued Thursday, March 19. Aside from essential services, residents are asked to remain at home until further notice.
The Encinitas Union School District announced March 15 that a person at Olivenhain Pioneer Elementary tested presumptive positive for the virus.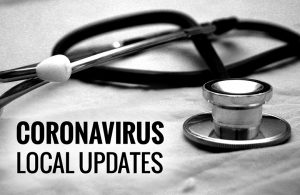 As of March 16, a number of school districts had suspended all class meetings in order to prevent the further spread of coronavirus. Some of these closures were enacted in consultation with San Diego County Health and Human Services.
"We will remain in close contact with the San Diego County Office of Education and local public health officials throughout the duration of this closure," San Dieguito Union High School District Superintendent Robert Haley stated on the district's website.
Haley stated in a follow-up on March 18 that all after school activities will be canceled and that San Dieguito schools will remain closed until at least April 13.
In an email sent to parents, Superintendent Jodee Brentlinger of the Solana Beach School District said that all district schools are expected to stay closed through at least April 3.
"The health and safety of our students, staff, families, and community must remain our top priority," Brentlinger said.
Though classes had been cancelled during the week of March 16, Brentlinger stated that effective March 23, Solana Beach students will begin at-home learning "through educational materials and resources."
In a follow-up, Brentlinger told the community that Newsom's order does not change the district's essential educational role.
Carlsbad Unified School District Superintendent Ben Churchill stated in a letter to families that in order to curb the transmission of COVID-19, reminded students to practice social distancing. Churchill said that public health officials recommend that students meeting in groups should "maintain a distance of six feet from one another."
All Carlsbad Unified schools will remain closed from March 16 until at least April 10. In a March 13 newsletter to parents, Churchill stated that the district's Board of Trustees moved spring break from the week of April 13 to the week of April 6.
"We increase our chances of significantly curbing the potential transmission of COVID-19," Churchill said.
Superintendent Holly McClurg of the Del Mar Union School District stated in an online newsletter: "On Monday, March 23, 2020, we will be moving to a remote learning model."
During school closures, McClurg said that students will be able to access learning resources from home on their "computers, tablets, or Chromebooks." For students who have no workable computer, the district provided free Chromebooks for families to pickup from their child's school on March 17.
If students have no broadband Internet access, McClurg stated that companies such as Spectrum and Cox Communications will be providing offers for free Internet service. More information about these offers can be found at the district's website.
In the letter to parents, McClurg also stated that the district has set a tentative time window for school closures and will determine whether "circumstances necessitate an extension beyond the previously stated date of March 27th."
Of the school districts previously mentioned, there has been one confirmed case of COVID-19 within the Encinitas Union School District. According to an announcement posted on the district's website, Superintendent Andree Grey stated that an individual from Olivenhain Pioneer Elementary tested presumptive positive for the virus.
Grey said that the San Diego Department of Health and Human Services is investigating the test result and asked that any individuals who may have been exposed to self-quarantine.
All schools within the Encinitas Union School District will remain closed until at least April 10.
"We have advised all teachers to send home a variety of resources to support continued learning," Grey said in a newsletter update.
In addition to at-home learning, Grey stated that Child Nutrition Services will provide Encinitas Union families the opportunity to pick up meals for their children via a "mobile walk-up or drive through meal service." Meals can be picked up at Ocean Knoll Elementary from March 16 to March 27, between 11 a.m. and 12 p.m.
Cardiff School District, which serves portions of Encinitas, announced an extension of its campus closures through spring break, with an anticipated return date of Monday, April 13. The Rancho Santa Fe School District, Oceanside Unified, and Escondido Union elementary and high school districts also set the same date as a possible return to campus.
Vista Unified is looking to an April 6 return date, and San Marcos Unified plans a return April 10.
Chase Spear is a local freelance writer
encinitas current, cardiff current