Detour Salon in Encinitas closes as coronavirus business restrictions lift
Detour Salon, a go-to spot in downtown Encinitas for haircuts, styling supplies and accessories for 22 years, announced its closure Wednesday, May 27, a casualty of challenging business conditions amid the COVID-19 coronavirus pandemic.
The closure came as San Diego County officials gave the green light for such businesses to reopen after weeks of being shuttered during the crisis.
"As salons across California open today, we are crestfallen to say that Detour Salon will not be one of them," the owners stated in an announcement on Instagram. "The COVID crisis and being shut down for 9 weeks has simply arrested the momentum of doing business. "For the last 22 years, it has been our honor and joy to be a part of your lives. Thank you for allowing us in."
The store's Hillcrest location is also closing.
In a goodbye video to customers and the community posted on Vimeo, the Encinitas store announced a closeout sale for Thursday, May 28, with some items selling for as low as a dollar. Detour is located at 594 S. Coast Highway 101 at the corner of E Street.
The reopening of salons, barbershops and houses of worship in the county follows the start of California's phased lifting of restrictions since statewide closures began in March.
Community businesses have struggled to stay afloat since the closures, which are part of an effort to stem the spread of the highly contagious novel coronavirus.
The anxiety has been palpable among coastal North County merchants.
"This is my blood, sweat and tears," Jennifer Van Deausen, founder of Pegasus Pilates in Solana Beach, told the North Coast Current in April. "I've been 100%, all-in, 18 years, and for something like this to happen."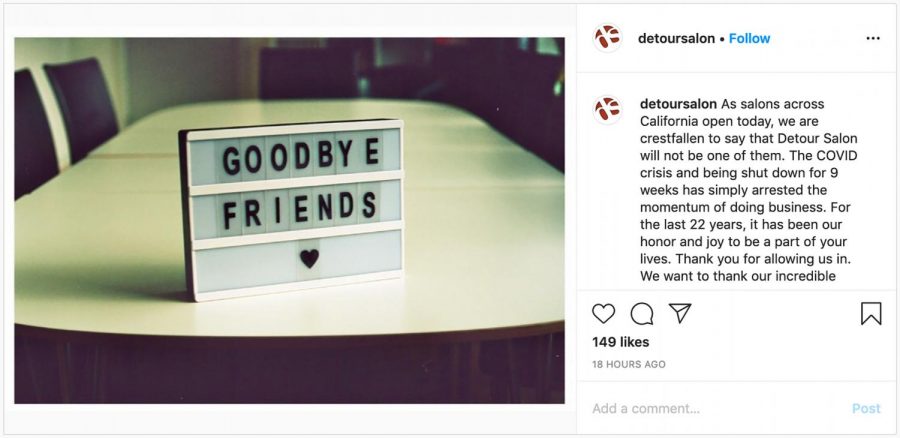 cardiff current, encinitas current