Hoping for business: Solana Beach
is 'pretty much all shut down'
The Solana Beach Chamber of Commerce has 54 food establishments within its membership, but 42 of them have been able to stay open for delivery and takeout as of April 16 since the current global pandemic forced most businesses to shut their doors.
It's a reality that's tightened its grip on the global scale. Since the COVID-19 coronavirus pandemic started to impact everyday life in San Diego about a month ago, unemployment claims have skyrocketed and many local businesses don't know that they'll survive to see the end of state-enforced closures.
Gov. Gavin Newsom's statewide stay-at-home order, issued on March 19, asks that all Californians limit social interaction and requires all non-essential businesses to close until further notice.
For restaurant owners, this means they may only serve takeout and delivery while honoring social distancing guidelines. Establishments such as gyms, theaters, salons and bars cannot be open at all.
"It's pretty much all shut down aside from the restaurants that are open for delivery and takeout," said Laura Mueseler, executive director for the Solana Beach Chamber of Commerce. "It's quiet. The streets are really, really quiet."
In Solana Beach, a cultural hub with coastal appeal, the impacts of the pandemic on local businesses vary depending on the nature of the establishment and whether long-term savings provide enough leeway for owners to keep doors open.
Chiefs Burgers & Brew, situated a few steps from the popular Cedros Avenue Design District, had to close its doors completely on Monday, March 16. Just a few days prior, bartender Rachel Miller said things felt mostly normal.
"Saturday, it seemed a little bit slower but not really noticeably," Miller said. "But then I think more news started coming in Saturday night. Then, when I worked Sunday night, it was like a complete ghost town."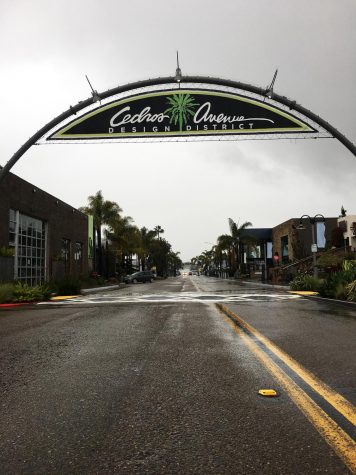 Chiefs is a family-owned establishment with deep roots in the Solana Beach community after being in business for 22 years. Miller said she and other employees have grown accustomed to getting Facebook messages from old regulars checking in on them, and that the owners have been as accommodating as they can be.
Steve Goldberg, co-owner of local joints such as the Belly Up Tavern and Wild Note Cafe, said they've fared slightly better due to emergency funds that allow the businesses to keep on salaried employees.
Nonetheless, the establishments' hourly workforce has been laid off, and neither of the locations has been able to sustain operations. This includes the Wild Note Cafe, which won't be doing takeout or delivery.
The situation is particularly unique at the Belly Up, which has long pegged its financial success on the exact opposite of social distancing: crowded, general admission concerts.
Goldberg said all upcoming shows have been canceled or postponed to the summer months, which is keeping the venue's scheduling staff busy. To make ends meet in the meantime, the venue is selling recordings of past concerts that took place at the Belly Up to music fans online.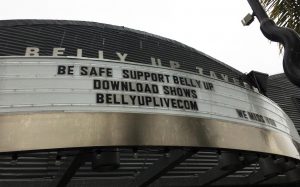 As for what comes after the stay-at-home order is lifted, Goldberg said he isn't so sure.
"I think eventually we will get back to close to where we were (before the pandemic), but I think it's going to be incremental," Goldberg said. "I think capacity is going to be limited and we'll work up to what someday is going to be what we were before. It's going to take a while because live music tours take some time to put together."
Gyms, as well as live music venues, are particularly poorly suited for pandemic times. Jennifer Van Deausen, founder of Pegasus Pilates, said the nature of her operation makes it not only impossible but unsafe to continue offering exercise sessions.
But for her clientele, being able to stay active during these times remains essential. Many of the people who come to her studio suffer from diseases such as multiple sclerosis or neurological issues, which Van Deausen said may require special attention in active spaces.
"
This is my blood, sweat and tears. I've been 100%, all-in, 18 years, and for something like this to happen …
— Jennifer Van Deausen, founder of Pegasus Pilates
"Most of them are just walking, but some of them can't walk," she said. "So it's difficult. Some of them, there is no way they can move without someone physically assisting them."
During past economic downturns such as the 2008 recession, Van Deausen said, the niche nature of her studio attracted consistent business because the service she offers can be hard to find.
This time, she said, the future of her business remains uncertain.
"I've been here 18 years," Van Deausen said. "This is my blood, sweat and tears. I've been 100%, all-in, 18 years, and for something like this to happen …"
Van Deausen said one of the highlights of the past few weeks was a note that was slipped under the door of her studio by a stranger right after she had to close down. The person had used about 30 gallons of water from a spigot next to her studio because all the local parks were closed.
"They left me $10," she said. "I would've never known — I have a spigot outside my building — but they took the time to find a piece of paper to do that. That was pretty awesome."
Bella Ross is a local freelance writer
encinitas current, cardiff current