Encinitas Marine Safety
Capt. Larry Giles retires
Encinitas city leaders and community members gathered at the Moonlight Beach Marine Safety Center on Tuesday to celebrate Capt. Larry Giles' retirement.
Giles spent 30 years with Encinitas, starting as a senior seasonal ocean lifeguard and moving up to management of the city's Marine Safety division.
"Larry leaves our Marine Safety Division is excellent shape, having initiated innovations, spearheaded Moonlight Beach's total renovation and mentored younger professionals to carry on the mission," Mayor Catherine Blakespear said in a statement. "We are enormously grateful for all he has given to the people of Encinitas. Larry deserves many years of happy retirement."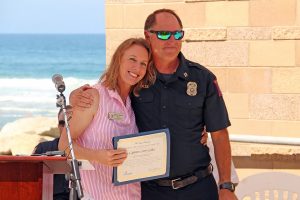 During his time as marine safety captain, Giles dealt with high-profile incidents on city beaches, from a shark attack on a 13-year-old boy at Beacon's in 2018 to the deaths of three women in a bluff collapse at Grandview in 2019.
Giles reflected on that aspect of the job in comments to News 8 during his July 20 retirement sendoff at Moonlight Beach.
"It's been challenging working here," Giles told News 8. "You're running out on calls and incidents with family and friends that are involved. There has been some difficult situations."
Giles also looked to the future of the Marine Safety Division, noting its 70 lifeguards and this year's 1,500 members of the Junior Lifeguard program.
encinitas current, cardiff current