An Encinitas mainstay returns: Spring Street Fair takes place this weekend
Organizers eager for event's launch after pandemic hiatus
In true spring fashion, there is a spirit of renewal in the air. And this weekend, Encinitas will be renewed with the return of the 38th Annual Encinitas Spring Street Fair.
Irene Pyun, Encinitas 101 MainStreet Association executive director, says it's a joyful time for those who have missed the mainstay event after its cancellation in 2020 and postponement in 2021.
"They can be outside, breathe fresh air and listen to live music — people are excited," she says.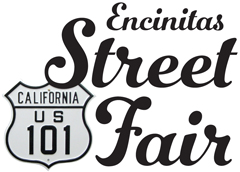 The festival will take place this coming Saturday, April 9, and Sunday, April 10, from 9 a.m to 5 p.m. between D Street and J Street on Highway 101.
Visit encinitas101.com/event/2020-spring-street-fair/.
Pyun says organizers have been closely working with local officials the last several months to determine if this year would mark the fair's return.
"We wanted to keep an eye on what our county was requiring and mandating as far as COVID restrictions, and see what the state was doing," she says. "We felt comfortable that we could pull it off in the spring. We talked to a lot of downtown businesses, city staff, and that's why we decided to move forward."
Though this festival will look similar to those held previously, organizers are implementing a few changes.
"We're increasing handwashing stations throughout the fair to keep it clean, and so people can enjoy the event safely," Pyun says. "And in our beer garden, we're lowering the amount of people able to come in so it's not too crowded. It's kid- and dog-friendly, too, so people want to stay there for some time."
She adds that they're taking a green approach this year by requiring food vendors to use eco-friendly packaging and collect organic waste in partnership with EDCO.
"An event like a street fair creates a lot of waste," she says. "The more green we go, the less trash we have to move. It's good for the environment, our business model, and our community as a whole."
There will be something for every palate at the beer garden, with brews from Ballast Point, Duck Foot and Stone Brewing, hard kombucha from Jiant and JuneShine, and a selection of varietals from PRP Wine.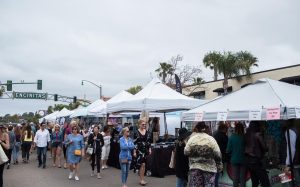 Organizers anticipate more than 350 vendors will join brick-and-mortar businesses along the fair route. Last-minute applications are still being accepted — visit kennedyfaires.com/encinitas/encinitas-spring-application for details.
To keep little ones busy as adults shop, eat and drink, they've established sections with amusement-style rides, including climbing walls and inflatables, at F and G streets.
"But we try to keep each block kid-friendly so they are distracted," Pyun says, laughing.
There will also be three stages from which to choose live entertainment throughout the weekend, including the Hansen Community Stage, which is geared toward up-and-coming artists.
"We have a lot of music schools in Encinitas, and dance schools," Pyun says. "We wanted to provide a place where students, youth and up-and-coming artists could perform for free. It means a lot to them."
With the return of the Spring Street Fair, nonprofits such as Encinitas 101 can return to helping their community.
"Without the income from these events, our organization was really suffering," Pyun says. "Now that we are seeing income, it allows us to support small businesses downtown and staff our offices as well."
"Everything we earn we put back into the community," she adds. "We are so happy to be back in operation."
---
Charlene Pulsonetti is a local freelance writer.