San Dieguito school district trustees name interim superintendent
Tina M. Douglas fills seat; no word on James-Ward's status
San Dieguito Union High School District trustees appointed an interim chief on Friday, April 22, two days after Superintendent Cheryl James-Ward was placed on administrative leave.
Tina M. Douglas, the district's associate superintendent of business services, will serve as interim superintendent effective immediately.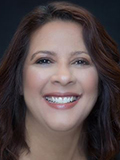 The vote for Douglas was unanimous. There was no further word on James-Ward's status with the district.
"Tina Douglas has more passion for this district than anyone I've ever met, and she regards all of your children like her children," board President Maureen "Mo" Muir said after closed-session discussions.
Trustees thanked the district's executive staff in the process to fill the position and said they looked forward to working with Douglas. An appointment agreement is expected to be ratified at the board's next meeting, Muir said.
The meeting lasted about three hours. It included more than an hour of public comments expressing further outrage over James-Ward's statements about Asian-Americans and academic performance. Some spoke in support of James-Ward. Others lodged complaints about the overall tone of the board and district.
encinitas current, cardiff current