Preserved Home: Dumplings, grits make for old-fashioned deliciousness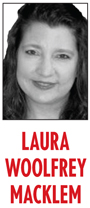 I grew up eating a lot of old-timey food, such as chipped beef gravy, cabbage and potatoes, Goldenrod eggs on toast, cornbread with ham and beans, apple dumplings, and we had bread and butter with every meal. These economical, hearty offerings were, in part, the Depression influence lurking at our dinner table, since I'm only two generations removed. My grandmother was a coal miner's daughter from West Virginia, so no doubt her style of cooking influenced my mother. My grandmother was served "poor man's soup" as a child, which was a vegetable soup with a water base, instead of stock or meat. Later in life, when things weren't as lean, my grandmother made the best vegetable beef soup you would ever taste.
One of my favorite down-home recipes my mom made was chicken and dumplings. She made the biscuit kind — drenched with gravy on the outside, and a full-fledged, dry but moist biscuit on the inside. It's not until I visited Cracker Barrel that I discovered a flat, southern slippery dumpling, which has now become my family's favorite.
Chicken and dumplings is probably the most homey, satisfying, economical dinner you can make. For a quicker supper, use previously made or store-bought stock and precooked chicken. Double the dumpling recipe, cut and freeze the for next time.
If you want to make your own stock, buy a small chicken roaster and boil with a mirepoix, or the holy trinity of cooking. These three must-haves translated from French are celery, onion and carrots. When making stock, I always throw in garlic, fresh parsley, salt, peppercorns and bouquet garni, which makes poultry dishes something special. While cooking stock on the stove is a commitment of a few hours, cheat the system and cook stock in the pressure cooker for about 30 minutes instead.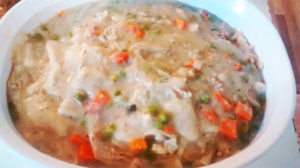 While I loved my mother's chicken and dumplings, I didn't like grits she offered. The cornmeal mush my grandmother endured in impoverished Appalachia might have even been an improvement, since cornmeal is at least sweet. My younger sister loved grits, though, and after watching episodes of the sitcom "Alice," she would literally kiss her grits. I didn't think grits were worth eating, or much less kissing, back then, but I have learned to gussy them up in another southern-inspired dish which is now my favorite breakfast — cheese and sausage grits. I wouldn't call this an economical recipe, but it's a way to take grits, which is an economical base, and turn into something company-worthy.
Thumbing through the yellowed recipe cards from years back, I can see glimpses of times gone by — the ingredients, the lingo, and the simplicity. I loved the stains and crinkles on the cards, thinking of busy hands pulling them out of the box, hurrying to get dinner served on time. My grandmother ate poor man's soup, but there is only a richness in the care, creativity, and even worry people faced, and still face today, about nourishing their families.
2 quarts of chicken stock, divided
2 cups of flour
2 tsp baking powder
1 1/2 tsp salt
1/3 cup shortening
2 cups shredded chicken
1 cup frozen peas
1 cup frozen carrots
1 tsp bouquet garni
For dumplings, combine flour, baking powder and salt. Cut in shortening with pastry blender. Add 2/3 cups of reserved stock to dry mix to make the dough. Knead for one to two minutes. Roll dough to 1/8 inch thickness and using a pizza cutter, slice into two inch squares. Heat remaining stock to boiling, and add bouquet garni.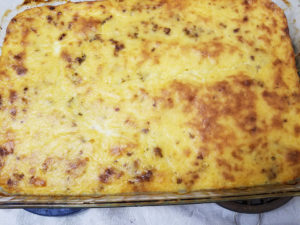 Drop dumplings in hot broth and lower heat to a low simmer. They will puff up immediately — it's like magic. Cover pot and cook for 30 minutes. Carefully stir occasionally to ensure dumplings aren't sticking to bottom.
Add shredded chicken and vegetables, and carefully stir. Check broth for seasoning. Test one of of the dumplings by cutting in half. If the center is darker than the outside, it likely needs another full 30 minutes. Bring mixture back to a simmer (cold foods will bring temperature down) and replace lid. Cook for another 20 or 30 minutes, but again, make sure dumplings don't stick to the pot's bottom. After dumplings are done, remove from heat and let the chicken and dumplings cool for about 10 minutes to allow the mixture to further thicken.
Cheese and sausage grits
3 cups water
1 cup half-and-half
1 teaspoon salt
1 cup stone-ground grits
8 ounces shredded sharp Cheddar cheese
1/2 cup butter
1 pound bulk pork sausage
3 eggs
1/2 cup milk
Bring water and half-and-half to a boil. Add salt and slowly add grits. Simmer until thick. Meanwhile, cook the sausage and drain.
After the grits are done, add cheese and butter. Stir till melted. Beat eggs with milk in a separate bowl, then add to grits mixture. Add sausage. Pour into a prepared casserole, and bake for 50-60 minutes.
Laura Woolfrey Macklem is a former North County resident who produces the Preserved Home blog. Visit http://www.preservedhome.com. Send questions and comments to [email protected].